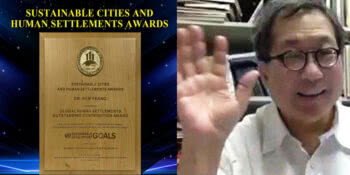 2020 Sustainable Cities and Human Settlements Awards Ceremony Honors Eco-Architect Ken Yeang
Palatine, IL – One of the world's leading global eco-architects, Ken Yeang, received recognition for his excellence in sustainable development practices and innovations at the recently held Sustainable Cities and Human Settlements Awards Ceremony 2020 (SCAHSA 2020), which concluded the two-day 15th annual Global Forum on Human Settlements took place virtually on October 15-16.
Yeang, an ecologist, architect and planner known for his signature eco-architecture and eco-masterplans, which are differentiated from other green architects through Yeang's authentic ecology-based approach, was among only 19 organizations and individuals receiving the honor.
"I was grateful to speak at one of the events as well as receiving this recognition," Yeang said. "We had an intense discussion around strategies for fighting epidemics: adaptable buildings and resilient cities. My session, which was on October 16th, was moderated by Mr. Choudhury Rudra Charan Mohanty, Coordinator of Environment Programme, UNCRD/UN DESA. Rudra is working hard to promote what we all need to be doing environmentally, including his own work with the Environmentally Sustainable Transport (EST) in Asia, the 3R, resource efficiency and circular economy in Asia and the Pacific, and the International Partnership on Expanding Waste Management Service of Local Authorities (IPLA) – an SDG (Sustainable Development Goals) partnership. I was truly in great company for this important discussion!"
The two-day forum reached out to more than 100,000 professional audiences through live streaming and participation, according to the organizers. Many of the discussions brought out one of Yeang's central messages, which he puts this way: "For our built environment to perform and function as part of Nature and be an extension of Nature we have to work in a symbiotic relationship with Nature. That is, buildings that become part of Nature with a capital 'N.'"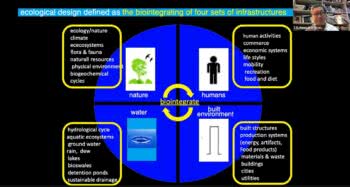 Yeang's commitment to ecology is the cornerstone of his philosophy of design, which spans several decades. His presentation at the event stressed the importance of a resilient future being dependent on the effective bio-integration of all human activities, its Systems with Nature.
"These activities and systems must be eco-centric and be guided by the Science of Ecology," Yeang insists. "Because our built environment must emulate and replicate the attributes of ecosystems as constructed ecosystems. In other words, our technological systems must be reinvented and seek to provide ecosystem services. That's how it is going to have to work!"
Yeang's focus on ecology has been the hallmark of his career – a career, which includes authoring over 12 monographs and books on ecological design, being a principal at the firm T.R. Hamzah & Yeang Sdn. Bhd. and being acknowledged as one of the 40 most famous architects of the 21st Century. He is continually sought not only as an authority on ecology and architecture, but as a person with proven solutions expressed through the buildings he has constructed.
Yeang was not alone in expressing the need for "continual development" toward a more resilient approach to solving these significant problems. In-depth discussions and analysis on a range of challenges took place, such as public health crisis, ecological disruption and climate change that cities have had to wrestle with so as to embark on a path to sustainable development. While providing timely scientific solutions and policy recommendations, the forum called on the global community to accelerate green transformation in recovery.
Other insights from the conference provided throughout the forum included:
5 billion people are affected by disasters from 1998 to 2017 and 96% of disasters are weather-related. In addition, water stress is a global challenge that needs to be tackled urgently and systematically.
There are win-win opportunities in climate mitigation, particularly through stepping up efforts in promoting electric transportation, eco-mobility and renewable energy.
Almost half of the world's population, about 3.6 billion people, remain offline. Digital technologies and ICTs are key enablers for accelerating sustainability efforts and climate actions in cities, from enhancing operational efficiency of urban complexities and infrastructure to improving accessibility to essential services and bringing the benefits of nature to all people.
Nature is needed more than ever, the need to work with nature to optimize health and prevent future pandemics was discussed.
COVID-19 that is continuing to cause human tragedy, social upheaval and economic turmoil across the globe can be considered as a once-in-a-century crisis of ecological security and public health.
"Being together at a single event like this is an enormous opportunity to produce a win-win that all societies are striving for," Yeang added. "The excitement, drive and purpose we all felt will help everyone carry our messages forward, which is that we have to start playing it smart. If we're going to withstand or recover from unexpected action or impacts to the planet's natural systems, we're going to require – perhaps mandate — rapid adaptivity and corrective action to the negative changes to our natural systems. That's the only way to achieve positive outcomes."
About Global Forum On Human Settlements (GFHS)
As an international non-profit organization in Special Consultative Status with ECOSOC, GFHS has been dedicated to providing a global platform for high-level dialogue on sustainable urbanization and promoting sustainable cities and human settlements for all. GFHS is a 501(c) (3) not-for-profit organization, legally chartered in the State of New York, USA in 2008. GFHS has achieved effective collaboration with the United Nations Department of Economic and Social Affairs, the United Nations Environment Programme, the United Nations Human Settlements Programme, the United Nations Economic and Social Commission for Asia and the Pacific, the United Nations Economic Commission for Africa, the International Telecommunication Union, the World Meteorological Organization, and others.
About Ken Yeang
Ken Yeang is the Executive Director at T.R. Hamzah and Yeang Sdn Bhd. He is both an architect and ecologist, known for his authentic innovative ecology-based signature eco-architecture and masterplans that have a distinctive verdant green aesthetic, that are beyond conventional accreditation. He trained at the Architectural Association School (UK). His doctorate is from Cambridge University on ecological architecture and planning. He has authored over 12 books on green architecture. Awards received include the Aga Khan Award, Malaysian Institute of Architects Gold Medal, Malaysian Government's Merdeka Award. He holds the Distinguished Plym Professorship (Illinois University). The Guardian newspaper names him as, "…one of the 50 people who could save the planet."