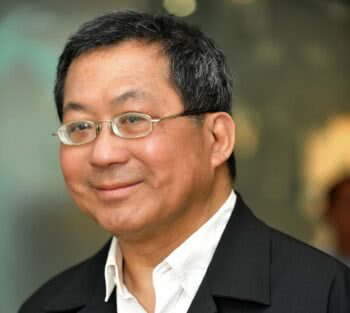 Noted Eco-Architect Ken Yeang Delivers Keynote at ASEAN Emerging Researchers Conference Focused on Designing for a Resilient Planet
PALATINE, IL – Ken Yeang, who has been named as one of the 50 people who can save the planet by The Guardian, gave the virtual keynote address at the ASEAN Emerging Researchers Conference which had "Challenges in Global Development: Sustainability & Conservation" as its central theme and featured prominent expert speakers from the Wolfson College family and ASEAN Community.
Entitled "Ecotopia," Yeang's presentation was viewed by over 1,000 people during and since the event on November 30. He weaved a compelling narrative that brought home several key observations resulting from his work as an architect and researcher – occupations Yeang freely admits are "difficult and onerous" but pursues them with gusto nevertheless.
"We are the most powerful species, and we make things," Yeang pointed out. "We make more things than any other species in nature, and we cover the whole planet with what we make. It has consequences on the biosphere where most organic life exists, and therefore, our environment."
Yeang focused his message around his central theme governing his work as an architect– how he strives to create a more integrated (actually, bio-integrated) approach to what we make as human beings, and what nature makes as nature for all species.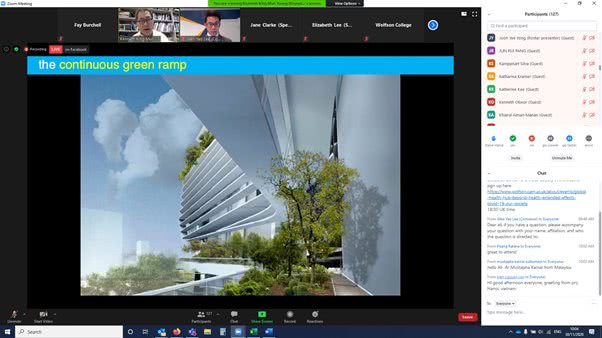 "Everything depends on bio-integration," he said. "If everything we made was from the natural environment, there wouldn't be environmental issues. Effective bio-integration is what we need to achieve in our work, all our work."
He used one of his favorite analogies to demonstrate that point: what a doctor does with prosthetic device. The person is the host organism for the prosthetic device. For effective bio integration to take place, the physical and systemic factors must be blended into a cohesive agreement – a "bio contract" so to speak. Similarly, built systems, technology, what humans make, must be bio-integrated into the biosphere (environment) cohesively – or trouble arises.
"Constructed ecosystems have to emulate and replicate natural ecosystems," Yeang told the audience. "What underlies my work as an architect is this belief: If the built environment is remade to be nature-like, that is, by becoming part of Nature as constructed ecosystems that emulate and replicate natural ecosystem attributes, then this is the only way we will survive as a species."
Yeang, who has written numerous books on this topic, trained at the AA School (Architectural Association), is an Honorary Fellow of Wolfson College, and received his doctorate from Cambridge University on ecological design and planning, brought in several key points from his narrative about a resilient planet to the group, the main one being: "Nature is giving us services (air, water, etc.) for free. Any businessperson knows there is no such thing as 'free.'"
Ultimately, Yeang told the attendees, without bio-integration, humans will end up paying dearly for these "free" services.
Yeang outlined what the key ecosystem attributes in sufficient detail to give attendees a working overview. These were:
Biological structure
Biodiversity
Connectivity and nexus
Provision of ecosystem services
Bio integration
Responsiveness to climate
Use and cycling of materials
Hydrology
Symbiosis
Homeostasis
Food production
Succession
"In nature, there is no waste," he said. "We invented waste. How can I interpret this in architecture?"
In his comprehensive thinking about bio-integration, a central question occurred to Yeang: How can we bring more biotic into the abiotic. In other words, how you integrate the natural with the manufactured non-natural humans make?
"We fragment the earth; we chop things up. We must reconnect nature into our work, interweaving with the world," he explained. Yeang's strategies include his experiments and research into achieving this reconnection – strategies like ways for keeping the sun out, simulating lighting conditions, creating habitats in a high rise, and more.
"Bio integration is easier said than done," he emphasized. "Nature, humans, water, the built environment. Getting these to "communicate to each other" is the challenge. Different parts of the earth have different climates, making architecture difficult."
According to Yeang, guidelines for greening for any city are only a guide for him. "I want to double those requirements (i.e., what a LEED® may recommend). I guess that's why I don't sleep very much."
For more information about Ken Yeang, his work and working within the construction environment, go to: www.kenyeangusa.com, or contact Jim Nowakowski [email protected] 847-358-4848.
To see the presentation recording, please go here: https://wolfson.cam.ac.uk/asean-emerging-researchers-hub.
Solaris Project: The Solaris Project in Singapore demonstrates Ken Yeang's commitment to ecological sustainability and bio-integration by creating a nexus linking the building with the surrounding environment.
About the Association of Southeast Asian Nations

The ASEAN (Association of Southeast Asian Nations) Emerging Researchers Conference is an international platform to drive research excellence and stimulate interdisciplinary research to address the needs of the ASEAN region. It is a strategic partnership between the ASEAN Young Scientist Network, Sunway University, and Wolfson College Cambridge. As an official flagship program for the region, the ASEAN Emerging Researchers Conference hosts a vibrant, research-centric community that has and continues to flourish. The concept behind the ASEAN (Association of Southeast Asian Nations) Emerging Researchers Conference is a synergy between two initiatives that started at the University of Cambridge; the Malaysia-Singapore Research Conference (MSRC) and the Cambridge University Southeast Asian Conference (CUSEAC).
About Wolfson College Sustainability & Conservation Research Hub

Wolfson College Sustainability & Conservation Interdisciplinary Research Hub brings together our international Fellows, students and others to inform and educate, improve our understanding and generate impactful solutions to stop the destruction of the natural world. The S&C Hub convenes a variety of disciplines and generations through events, projects, mentoring and more, drawing on Wolfson's strengths in diversity and inclusion with returning professionals and new students from 85+ nationalities, world-class researchers and highly engaged networks. We have maturity of experience and global reach to educate future decisions makers across disciplines and industries. https://www.wolfson.cam.ac.uk/interdisciplinary-research-hubs/sustainability-conservation-interdisciplinary-research-hub.
About Ken Yeang. Ken Yeang is the Executive Director at T.R. Hamzah and Yeang Sdn Bhd. He is both an architect and ecologist, known for his authentic innovative ecology-based signature eco-architecture and masterplans that have a distinctive verdant green aesthetic, that are beyond conventional accreditation. He trained at the Architectural Association School (UK). His doctorate is from Cambridge University on ecological architecture and planning. He has authored over 12 books on green architecture. Awards received include the Aga Khan Award, Malaysian Institute of Architects Gold Medal, Malaysian Government's Merdeka Award. He holds the Distinguished Plym Professorship (Illinois University). The Guardian newspaper names him as, "..one of the 50 people who could save the planet.."
About T.R. Hamzah and Yeang Sdn Bhd. T.R. Hamzah and Yeang Sdn Bhd is an architecture and planning brand established in 1977 by Tengku Robert Hamzah and one of the pioneer signature ecological architects, Ken Yeang. Today, the firm offers innovative architecture and masterplans consolidating the latest scientific technological and ecological advances with a sensorial encounter and supports individuals of the local community to assist them with their true sense of culture and education. The design and built works of T.R. Hamzah and Yeang are in more than 10 countries and more than 1000 projects.