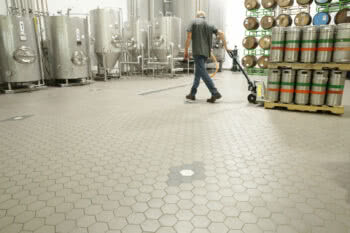 Choosing the Best Floor for a Manufacturing Plant
Blog contributed by Argelith Ceramic Tiles.
Few industrial environments are more demanding than the factory floor. Manufacturers who build their facility with the wrong products find themselves in an endless and expensive cycle of replacement and repair as their processes hammer away at their building. Read on to discover the simple way to make sure you choose the best, most cost-effective flooring for your facility.
NEEDS ASSESSMENT
The first step in identifying the best building material for your industrial plant is conducting a needs assessment. You will prioritize those needs, then establish a long-term plan and budget.
What chemicals is your floor exposed to? Consider everything that might fall on the floor – ingredients, processing chemicals, fluids from machinery, etc. To be certain you choose a floor with the right chemical resistance, you need to know what materials, in what concentrations, the floor will be subjected to. Also note how frequently chemical exposure is likely to occur and how long substances might stay on the floor before being cleaned up.
What physical stress is placed on your facility floor? Consider all the physical and mechanical loading your floor must sustain:
o   Stationary loads (loaded racks, machinery, etc.)
o   Rolling traffic (on rubber tires or on steel wheels)
o   Pedestrian traffic
o   Dragged items
o   Sharp or heavy impacts (dropped tools, falling product, etc.)
o   Machinery vibrations
What is the environment like? Is it often moist or even wet? Is the temperature stable or does it fluctuate? Is the room subject to very high or very low temperatures?
Does your facility need to abide by industry regulations (i.e., USDA hygiene standards)?
What are your safety needs? Are there open pits or danger zones that need to be marked? What level of slip resistance is required?
How do you envision your cleaning and maintenance routine?
What is the condition of your concrete slab? Is it cracked, corroded or uneven? Does it need slope correction to help water run to drains?
How long do you anticipate the floor should last? If you choose a flooring solution that does not last as long as you planned, you will have to lay out the expense of replacing it when it wears out. Be sure to factor those future costs into your facility budget.
PRIORITIES
Once you've taken stock of what you need, it's time to prioritize. Determine where you are willing to compromise if your budget demands it. For example, would you be willing to alter your ideal cleaning routine in order to get a floor with a longer lifespan?
This is also a time to determine if every area of the plant has the same flooring requirements. Chemical and water resistance, for example, might be critical under a bottling line but not very important in an area used for dry storage.
BUDGET
A common and short-sighted mistake is choosing the floor or other building material that is easiest on your wallet today. The trouble is, a light-duty floor won't last in a heavy-duty environment. When the floor starts to fail, you will have few options, none of them cheap:
Constantly repair failures as they happen;
Eat the cost of having an entirely new floor installed earlier than anticipated;
Risk long-term structural damage to the concrete slab – which will have to be remediated eventually.
That's why budgeting comes at the end of this process: first determine what you need, and then you can look for an economical way to meet that need.
When reviewing your flooring options, look not only at the sticker price, but at the long-term cost of ownership. To calculate that, you need to know three things: the cost of the initial installation, including materials; the cost and frequency of ongoing maintenance; and the estimated lifespan of the floor.
For example, let's say you are looking at a floor coating with a fifteen-year lifespan. It has a topcoat that, under the conditions in your factory, will probably need to be touched up after three years. To calculate the cost of ownership, multiply the cost of applying a new topcoat by four (the number of times you can expect to refresh it over the floor's lifespan), add that to the cost of the initial installation, and then divide that number by fifteen. You now know how much it costs per year to own this floor, assuming everything performs the way it is supposed to.
By comparing cost of ownership, and not just cost of installation, you'll be able to make a much better comparison between flooring types. For example, tile is typically more expensive to install than liquid coatings, but it requires less maintenance and can last up to ten times as long, so its annual cost to own may be comparable or even cheaper than the alternative.
To learn more, please visit www.argelithusa.com.