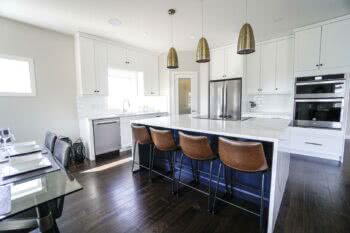 How to Install Countertop Heaters
Blog contributed by WarmlyYours.
A natural stone countertop, whether it's marble or quartz, can become the eye-catching center of any kitchen remodeling project—but it should always remain an extremely functional element as well.
While natural material countertops are certainly visually attractive, their inherent "chilliness" can make them off-putting for clients that want to entertain guests and spend time with the family around their kitchen islands and counters.
However, by incorporating electric heating mats under the countertop, you're able to mitigate this issue and ensure that a homeowner's countertop feels as good as it looks. These energy efficient heating elements gently increase the temperature of the countertop to a comfortable level.
In this post, we'll take look at how to install these undercounter heaters along with answering some common client questions concerning these products.
Installing Undercounter Heat
The installation process for incorporating countertop heaters into a pre-existing countertop's overhang (the area that people most commonly come into contact with) is very easy—we've broken it into the following steps.
The first step is to purchase a stick-on undercounter heater. WarmlyYours offers 4 different standard sized FeelsWarm® mats that work with common countertop sizes and orientations. However, WarmlyYours also sells FeelsWarm® custom mats (for indoor or outdoor applications), so if you need a custom-sized mat for your project, you can contact us at 1-800-875-5285.
The next step is only really required for countertops that have a rough cut bottom. This is common with some quartz or granite countertops. However, if your project is using a stone with a smooth bottom or a mesh backing, you can skip this step. If you are using a rough cut countertop, you'll simply apply a light layer of two-part epoxy to the underside of your countertop. (Epoxy is included with all countertop heating mats).
Next, using a simple "peel-and-stick" method, remove the release liner from the mat and apply the adhesive side underneath your countertop, approximately ½" away from the outer edges. Note: you'll want to position the mat so that the heater cord is facing toward the cabinet the countertop is installed on.
After locating an outlet inside of your cabinet, drill a small hole into your cupboard under the overhang area and feed the heater cord through the hole.
A low-voltage transformer will be included with your countertop heating mat. This plugs directly into a standard 120V outlet and can be bolted to the wall in your cabinet. Finally, plug in the mat's heater cord to the plugged in transformer and it'll begin to heat up.
Common Client Questions About Countertop Heating
A lot of homeowners will have questions about countertop heating so we've tried to gather some of those along with answers.
How much does it cost to run a countertop heater?
Typically, the operating cost to run a countertop heater for 24 hours is approximately 10 cents. This can vary to a small degree based on local electrical costs and how big the mat is.
How long does it take the heater to warm up?
In about 90 minutes, the heater will reach its maximum temperature setting.
How hot does the countertop get?
The countertop itself will get 20-25 degrees warmer than the room temperature. So if your thermostat is set to 72 degrees Fahrenheit, your countertops will be between 92 and 97 degrees. This means your countertops will no longer feel cold to the touch but they're not going to be uncomfortably hot.
This means they won't be able to heat up a cup of coffee, but your countertops won't feel cold to the touch.
With which countertop materials do these heaters work?
WarmlyYours FeelsWarm® countertop heaters can be applied to natural and engineered stones, including granite, marble, quartz, limestone, soapstone, Cambria and Silestone. They can also work for some stainless steel and concrete countertops.
If you have any other questions or would like to get more information about countertop heating, please visit www.warmlyyours.com or call WarmlyYours at 800-875-5285.