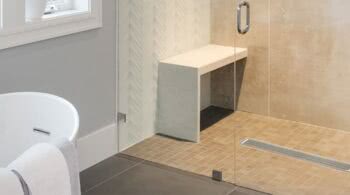 Three Reasons to Choose a Linear Shower Drain When Remodeling: Aesthetics, Performance and Safety
Yesterday's shower drain often summons a mental picture of a centrally located round or square slotted metal form for water egress or exit. And even now, those drains have their place. But today, when looks are everything and form follows function, the linear shower drain is gaining fast favor with astute and design-conscious homeowners.
Offering an elongated rectilinear form that's often positioned to accentuate the back facing wall of the shower, the linear shower drain maximizes capturing the flow of water toward a single exit point. This results in the highly efficient removal of liquid from the shower area and the elimination of any possible standing water.
Aesthetics: Designed for today's curbless, walk-in or open-plan shower and bath remodels or new-build projects, the linear shower drain boasts a decorative linear pattern grate drain that allows the shower floor to become an integral part of the overall bath design. It's a shower drain that adds a new dimension for coordination or contrast, helping set the tone for a stylish and sleek master bath offering a stunning space for total tranquility.
Performance: "Each QM Drain linear shower drain is made entirely of Stainless Steel Marine 316," says Tom Hamilton, national sales manager for Marketing Representatives LLC. "Marine grade stainless alloys offer unmatched corrosion resistance and protection from household chemicals." MRL is a representative for QM Drain, a leading international manufacturer of stainless steel linear and center, custom and standard shower drains and accessories.
Safety: Aging in place is a term that the U.S. Centers for Disease Control and Prevention (CDC) defines as the ability to live in one's own home and community safely, independently and comfortably, regardless of age, income or ability level. "From the aging-in-place perspective, the linear drain allows for the use of larger floor tile thereby allowing a gentler pitch or slope," notes Hamilton. "For individuals with balance issues, I would think it would be better."
QM Drain's selection of linear shower drains starts with the Delmar Series of linear drains offering a combination of nature-inspired designs and high-quality materials. The Delmar Delta linear drain, for example, is inspired by the strong and determined way a river flows into the ocean. The Delmar Mist (Tile-In) linear drain offers a tribute to the way water disguises everything around us in nature.
QM Drain's linear shower drains are available in a variety of standard as well as custom/adjustable lengths. Each comes with an adapter to easily install the drain with a water-tight seal, two sets of adjustable leveling feet to correctly position the drain and a sloped trough, graded toward the exit point, resulting in no standing water.
QM Drain
Located in Pompano Beach, Florida, has over a decade of manufacturing expertise in engineering and creating Stainless Steel shower drains. The company employs an extensive level of quality controls to ensure each product bears the trademark assurance of QM Drain. The company provides unique, modern design and high-quality shower drains to the bathroom industry.