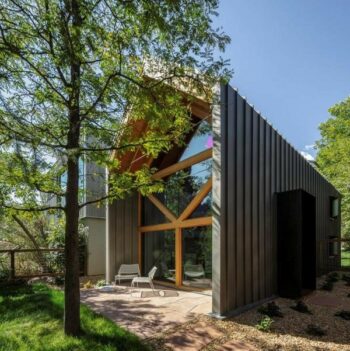 Cozy Accessory Dwelling Unit Scores for Style and Energy Efficiency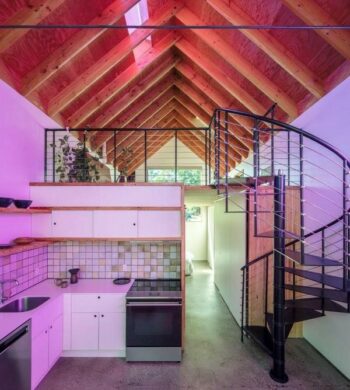 Boulder, CO – One of the hottest housing trends in the U.S. is the ADU or Accessory Dwelling Unit. Located on the same lot as a single-family home, the independent residential unit can be a guest house or a home for extended family.
Tres Birds designed and built a cozy ADU in Boulder, Colorado. The new 800-square-foot home features a kitchen/dining space, bedroom, bathroom, and flexible loft space, which could be additional living space, an office, or a second bedroom.
Efficiently designed, the small home reuses and repurposes a number of materials. It's made primarily of reclaimed bowling alley lanes and plywood.
The warm toned 50-year-old bowling alley wood is used as a structurally independent mezzanine floor system and laminated together to create the east side timber frame window system. Gleaming reject tile from a Boulder artisan is used throughout the bathroom and in the kitchen.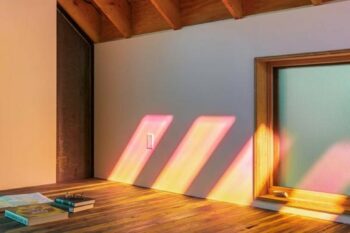 The skylight is made from a dichroic glass panel left over from a past Tres Birds project. As the angle of the sun changes throughout the day and season, so do the visual effects within the living space, creating a vibrant show of colored light throughout.
Window locations and roof overhangs were designed specifically to maximize natural light in the home while providing adequate shading for summer sun. In the winter, the continuous standing seam exterior is designed to be low maintenance and to quickly shed snow from its pitched roof.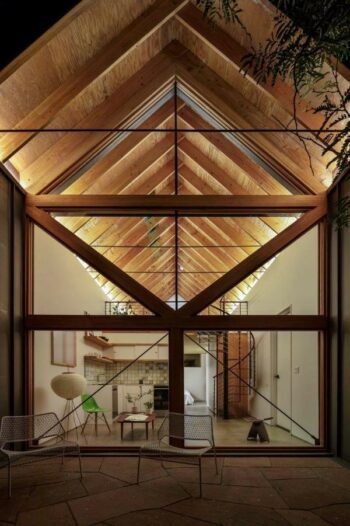 The ADU scores well for energy efficiency. The envelope is tight and well insulated. Radiant floor heating and cooling keep the indoor climate comfortable. Lighting, security, HVAC, and the operable skylight can all be controlled by the occupant's phone, integrating the systems and cutting down on energy waste. The home received a Home Energy Rating System (HERS) score of 33, not far off from Europe's stringent Passive House requirement of HERS 20. For reference, a new standard home scores HERS 100 and an Energy Smart home scores HERS 85.
The home has been designated an "Affordable Accessory Unit" rental property by the City of Boulder Affordable Housing Program.

About Tres Birds
Tres Birds is a full-service planning, architecture and general contracting firm based in Denver, Colorado. Founded in 2000, Tres Birds creates dynamic designs for a better world―building sustainable community, respecting nature, and sparking innovation. The Tres Birds team is made up of progressive systems thinkers and makers who create healthy and efficient spaces that reduce carbon footprints and bring joy to their inhabitants. Projects range from mixed-use developments and corporate headquarters to net-zero energy homes, museums and city parks. Each one is designed to bring wellbeing to the people who spend time there and the surrounding ecosystem.