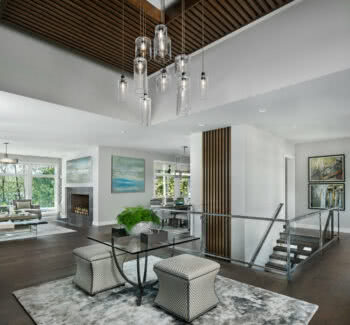 Ellwood Interiors Uses Hammerton Studio Fixtures to Create "Livable Luxury" for Clients
Blog contributed by Hammerton Studio
"Livable luxury" is the driving motto for the talented, all-woman team at Ellwood Interiors. Based in Birmingham, Michigan, Ellwood Interiors creates award-winning designs for luxury homes with heart, integrity and a hawk-eye focus on client needs. "We don't push 'our' style, explains Valerie Dehnke and Victoria Vanderport, Ellwood's senior designers. "First and foremost, it's all about the client and ensuring their design needs are met. We just guide the process." The results are homes that reflect each client's vision, while maintaining distinctive style and the inviting comfort that makes a house a home.
Two recent Ellwood projects included a mix of Hammerton Signature and Hammerton Studio fixtures. "Hammerton lights are distinctive, yet versatile," explains Victoria. "They juxtapose different design elements, such as glam and industrial, that lends them to a wide range of interior styles. They make our job of pulling together a home look easy."  While each displays a unique aesthetic, both are lakefront homes requiring decorative lighting that elevates the overall interior aesthetic without obstructing stunning views.
Apple Lane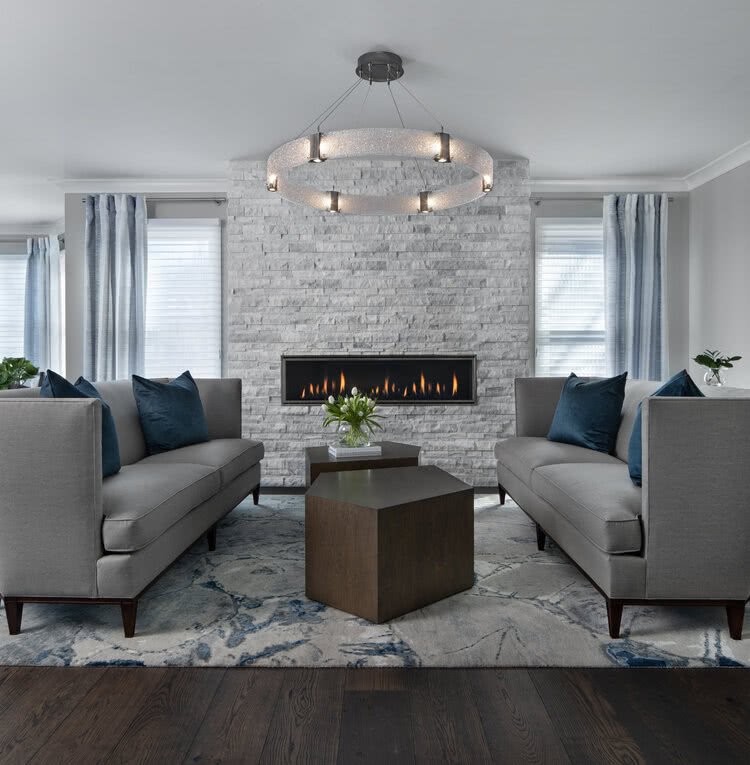 ARCHITECT: JOHN JAKUPI & BUILDER: BALBES CUSTOM BUILDING
A remodel with the end goal of not appearing like a remodel, the 'Apple Lane' project needed to accommodate the owners' love of entertaining. Each space was designed to be welcoming and encourage gathering. As such, it was important for the decorative lighting to provide an engaging focal point along with plenty of light for guests.
"Hammerton offered what no other manufacturer could," explains Victoria. "A challenging nook required a unique, artisan-made element that was very lightweight yet obviously of very high quality. The Hammerton Studio blown glass chandelier we selected fit the bill. It was luxurious yet functional, and absolutely transformed the space."
Arbor Bay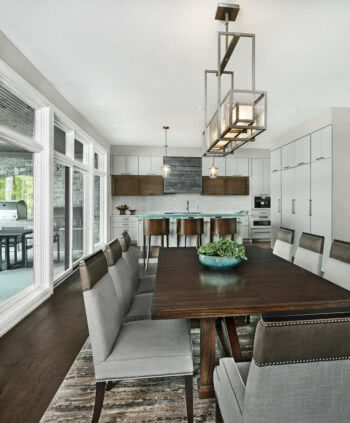 ARCHITECT: VANBROUCK AND ASSOCIATES & BUILDER: VANTAGE CONSTRUCTION
Unique, hand-selected elements throughout — including organic stone surfaces and stained wood panels on ceilings and walls — underscore the singular style and elegance of this completely custom Arbor Bay home. Hammerton Studio and Hammerton Signature lights echo these distinctive elements while maintaining a cohesive flow throughout the open floor plan.
"Hammerton Lighting made our job easy. While each fixture looks distinctive and artisan-made, collectively they work beautifully together and cohesively unite spaces. Plus, the company has unbelievable customer service!"

— Ellwood Interiors
To learn more, please call 801-973-8095 or visit www.hammertonstudio.com.
About Hammerton Studio
Hammerton Studio stands atop a quarter century of company experience pushing the boundaries of innovative custom lighting design. Each collection has been inspired by custom work brought to life by the Hammerton design team in collaboration with leading interior design professionals over the years. Built to your specifications by our artisans, every light reflects the uncompromising design and attention to detail that is distinctly Hammerton.