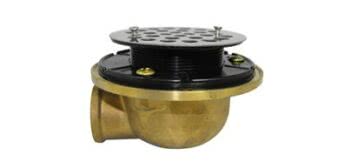 Florida Plumber Benefits from OS&B Product Inventory
The right part at the right time!
Challenge
Recently a plumber, Eddie Bock of Eddie Bock's Plumbing in Naples, Florida needed 30 OS&B's side mounted drains immediately to renovate a condominium's tub shower floors to walk-in showers and to keep an inventory to meet a growing demand.   Bock tried a few distributors but could not get a fast response or no response at all.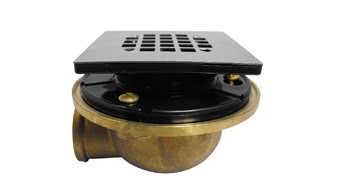 Solution
Bock called MarketNet and received an immediate response. Inventory was checked and affirmed, the 30 OS&B side mounted drains Bock wanted were available and shipped. Bock chose the SDB47 Round Side Discharge Shower Drains for the condominium's tub shower floors and the SDB48 3-piece Square Side Discharge Shower Drains for inventory to quickly meet upcoming installation dates.
The OS&B side discharge drain is used in renovating a tub to a walk-in shower. In some renovations, the existing drain connection is running on top of the floor, which is only revealed when the tub is removed.  This is the reason a low-profile side outlet drain like OS&B's with a 90-degree outlet does the job.
Also, with OS&B, Bock did not have to break up the concrete floor to convert the bathtubs to walk-in showers saving time, money, and man hours. Bock finished off the installations quickly with an elbow to the wall connections.
The OS&B drain design keeps the shower pan at the lowest possible height needed to complete the connection and for comfort in entering the shower and eliminates the expense and time to break up concrete flooring in renovations.
The SDB47 3 piece Round Side Discharge Shower Drain has a 4-1/4" diameter screw-in stainless steel grate and the SDB48 3pc Square Side Discharge Shower drain has a 4-1/8" square snap-in stainless steel grate both are for use with a shower pan liner.
Each Features:
Low profile brass bodies
Extra-long ABS round thread-in flanges for deeper installations
Reversible ABS clamping collars allow for increased adjustability
1-1/2" copper DWV hub connections
3 solid brass bolts
Bock, when asked about MarketNet said, "As long as they have the inventory I need when I need it, I'll keep coming back."
MarketNet carries a revolving stock of OS&B's popular shower drains and stainless-steel p-traps. This is a typical example of what MarketNet does for customers like Eddie Bock. We invite you to visit www.shopmarketnet.com or call 847-358-6884 for available OS&B and other plumbing products.
MarketNet's inventory programs not only carry industry-popular products, but also include access to product information from experienced personnel, exemplary customer service, the conveniences of online shopping at www.shopmarketnet.com and always fast delivery.
ABOUT OS&B
OS&B®, founded in 1975, is a leading Manufacturer and Distributor of Plumbing Products. Located in Oakville Ontario, OS&B is Canada's largest manufacturer and Distributor of Waste & Overflows, Traps, Lavatory Drains, Tubular Brass Fittings, and various other plumbing parts.
A variety of carefully selected OS&B products including shower drains and p-traps chosen for their popularity and versatility are available and sold by MarketNet through shopmarketnet.com and direct by phone.