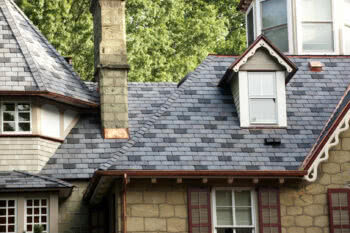 Introducing 5 Incredible Roofing Projects by Color Specialist Katie Smith & DaVinci Roofscapes
For the past 10 years DaVinci Roofscapes has used the talents of color specialist Kate Smith. The president and chief color maven of Sensational Color, Smith shares her international color expertise with homeowners looking for direction when selecting colors for DaVinci composite slate and shake roofs.
"During the past decade I've provided color insights to hundreds of homeowners looking for 'just the right color' roof to accent their homes," says Smith. "My direction to them is clear. Start by looking at the home exterior from the top down. The roof color should always be selected to complement the home's overall design and existing foundational elements."
Free Color Support
To help educate homeowners on "Top Down" color choices, Smith has created four e-books for DaVinci during the past decade. The free online guides are designed to assist homeowners in learning about home exterior color schemes for a variety of home styles. Smith has also created curb appeal tips, a variety of color palettes and many color-related blog postings. And, she's available for free color advice for anyone purchasing DaVinci roofing products.
To mark the decade of color support provided by Smith, the DaVinci Roofscapes team has identified 10 of the most colorful residential and commercial roofing projects undertaken since Smith joined the team.
Top 5 Colorful Roofing Projects
Vintage Home Gets Custom Color Roof
Homeowners Carol and Ray Knoff drove from their home in Vinton, Iowa to the DaVinci Roofscapes manufacturing plant in 2011. They brought with them samples of pavement, so their new DaVinci roof could be made in a custom blend to reflect the historical nature of their 111-year-old Queen Anne style home.
"The DaVinci team worked with us to develop a color combination of Midnight Gray and Cottage Red," says Carol Knoff. "It really 'pops' and gives a positive first impression of our home while helping define the roof lines and architectural style."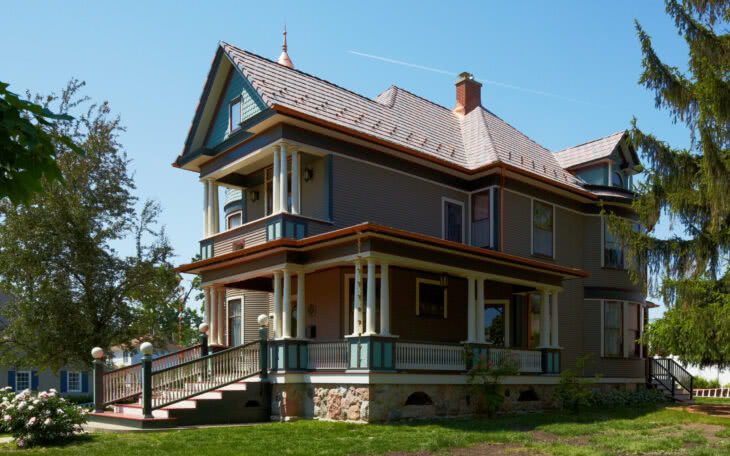 Historic Home Gets 21st Century Roof
Built in 1860, Irene Darocha's historic home sits on land deeded to the original property owner by William Penn. The West Chester, Penn. home is more than 150 years old. When it came time to restore the roof, she searched for authentic-looking slate tiles, and found them with DaVinci. Darocha chose to create a custom blend of colors for the roof, combining dark purple plus light, medium and dark gray slate tiles with black tiles.
"I wanted the black added in to the roof so it would gain more attention," says Darocha. "The unique mixture of the five color shades looks terrific and very historically accurate on the structure. I wanted those specific colors so they could complement the natural shading in the original serpentine stone exterior of the home that came from a local quarry 148 years ago when the original structure was built."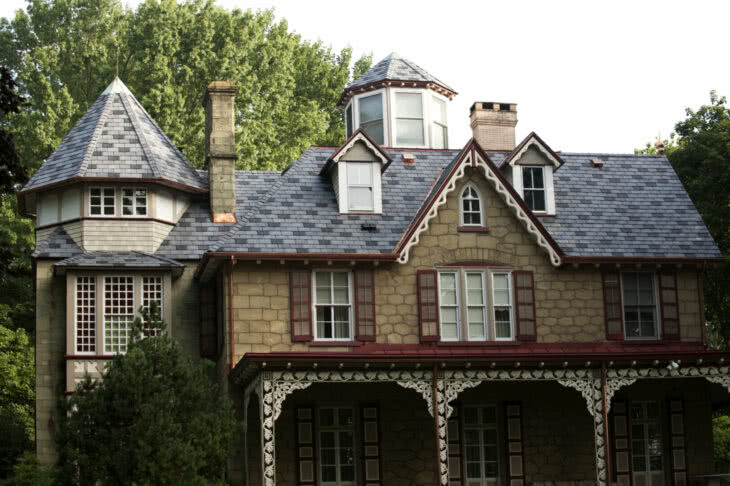 Hail Story with a Happy Ending
After a severe hail storm damaged the roof of the Singh family, they decided to invest in a Bellaforté slate roof. The composite roof resists hail, impact and high winds, so the Midland, Texas family can rest easier. And, to get the curb appeal they wanted, DaVinci was able to offer the Sonora blend of medium and dark terracotta, along with light and dark clay.
"We wanted a color that looks similar to the concrete roof tile originally on our home," says Mohan Singh. "This Sonora color is perfect. It's added drastically to the curb appeal of our house.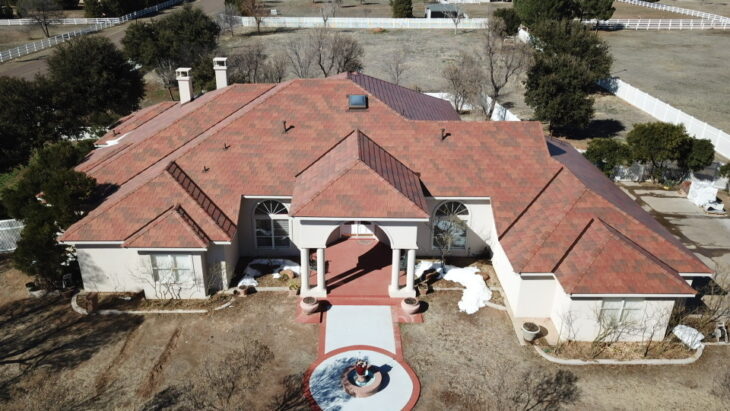 Colorful "Safari House" Features Custom DaVinci Roof
Inspired by their love of warm earth-tone colors, and touches of safari-themed items found inside their home, Jack and Angie Craig transformed their colonial-style house with stand-out colors. On the roof, four earthy colors of light clay, medium light autumn, medium autumn and black, allowed the Kansas homeowners to get creative.
"We wanted to add more pizzazz and interest to our home," says Angie Craig. "The colorful DaVinci roof was the perfect starting place to achieve our goal."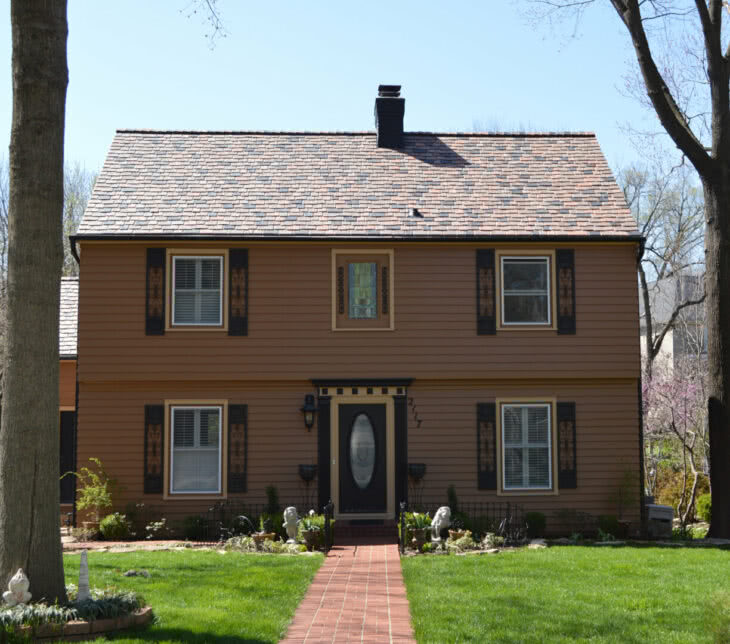 Synthetic Slate Roof Used on Beaver Creek Town Homes
If you're lucky enough to visit Beaver Creek, Colo., you'll notice that many of the roofs look the same. That's because a custom blend of colors was created back in 2008 called "Beaver Creek Blend." The combination of green, tan and gray colors has been used on the Highlands Slopeside condo complex, Elk Track town homes and several other properties in the popular ski resort to help unify the structures in Beaver Creek.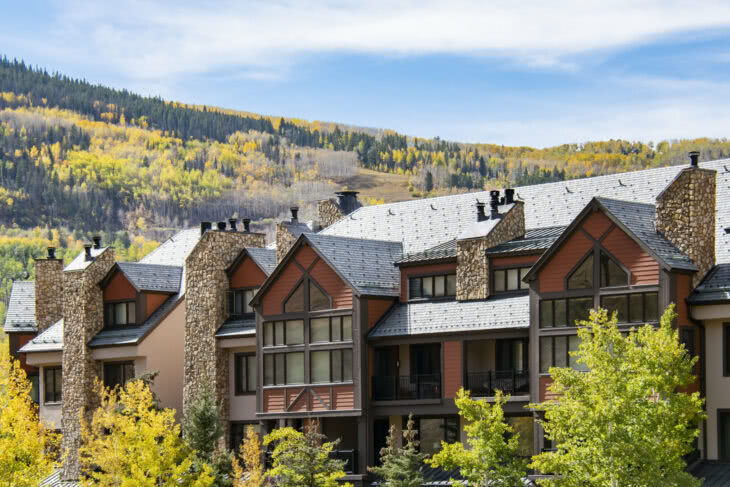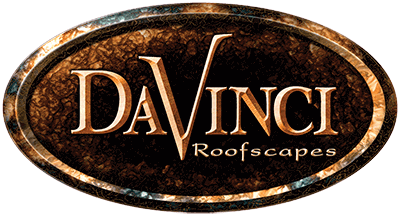 DaVinci has been the leader in composite roofing for nearly two decades. Our commitment to creating durable, beautiful roofing tiles is unparalleled. You won't find a more realistic or better-performing roofing product anywhere. With DaVinci, you can retain all the character your home was intended to have without worrying about time-consuming and costly maintenance. Whether you're replacing an existing roof or looking for the crowning touch on a new construction project…just leave it to DaVinci.
Sensational Color is where designers, marketers, artist, crafters, modern makers, creative DIYers and professionals come to learn how to master color and get the amazing results they desire.