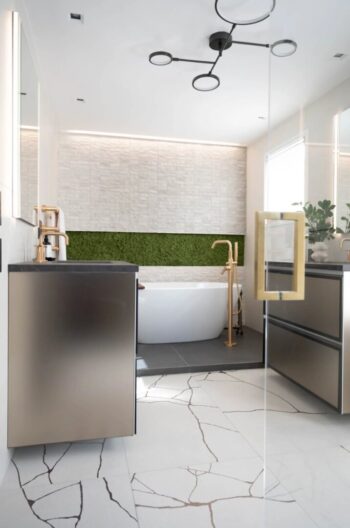 MrSteam: Bringing Spa-Like Modernism to a Bathroom in Haworth, NJ
Story contributed by MrSteam.
Designer Michele Alfano, creator of the POETIC MODERNISM® style, recently renovated a bathroom in Haworth, New Jersey to support the homeowners' desire for a relaxation-and wellness-focused space. POETIC MODERNISM® is the philosophy that gut emotions profoundly influence mental, physical, and emotional well-being. Weaving steam and essential aspects of nature into the design were crucial pillars of Michele's strategy.
Project Objectives 
Michele's clients wanted a spa-like bathroom experience that would give them relaxation and stress reduction on a daily basis. The clients' previous bathroom was bland and small, but still functional. Michele and her team transformed the original space into a larger, luxurious retreat with the addition of a freestanding tub, two vanities, a private toilet, and a steam shower.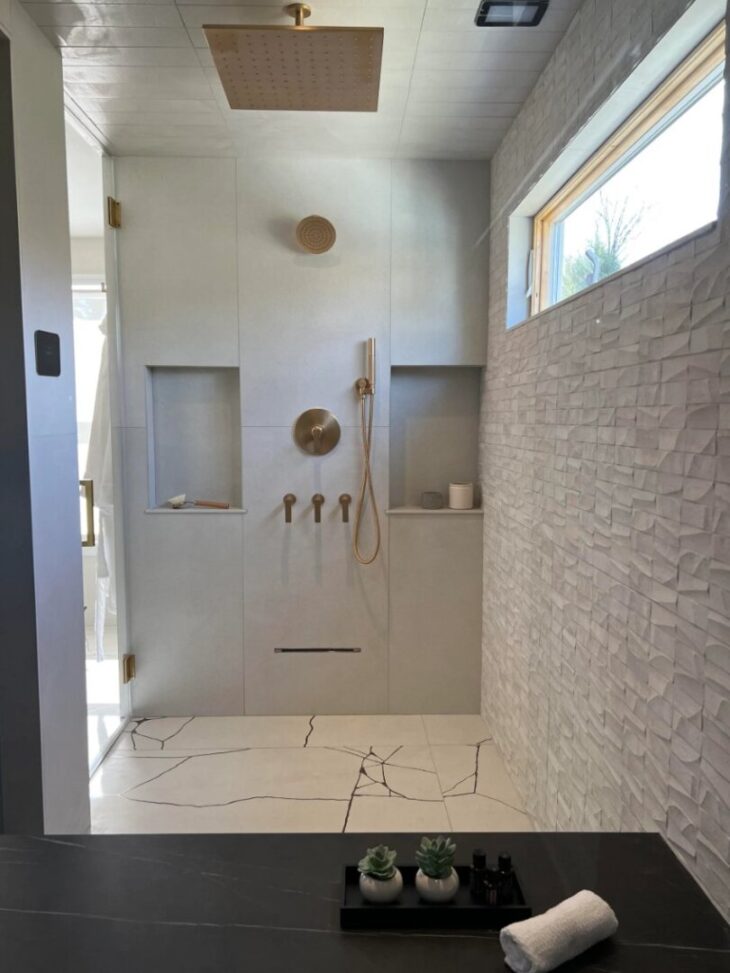 Designing for Rejuvenation
The focus on wellness and creating a luxurious, spa-like environment led Michele and her team to incorporate a fully enclosed steam shower, AromaTherapy, music, and a moss wall. The two-person shower was designed to enhance rejuvenation with speakers, benches, and a transom window included. Every design element, including the wall, wood finishes, and sleek, modern fixtures were painstakingly selected to promote beauty, cohesion, and harmony.
Custom cabinetry and built-in shelving help the space remain uncluttered, low-stress, and easy to navigate. Warm, soft white lighting was selected to enhance relaxation and soothe the senses, with the inclusion of dimmer switches and adjustable fixtures to allow the clients to customize the ambiance to their preferences.
The steam shower was the highlight of the room's design! Michele's clients were thrilled with the soothing vibes and elements of nature.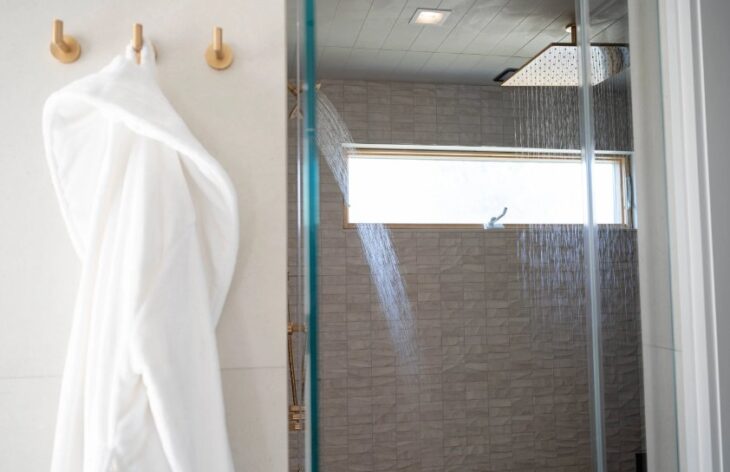 Steam Enhances Wellness 
The healthy benefits of steam have been known for centuries. Steam promotes well-being by reducing inflammation, acting as a natural decongestant, and improving blood circulation. As a result, the use of steam in the bathroom may be beneficial for conditions such as allergies, asthma, and muscle pain. The ability of steam to help unclog pores may also result in a healthier complexion.
Learn more about Michele Alfano and the POETIC MODERNISM® style here.
About MrSteam
Steam is in MrSteam's DNA. With over 100 years of experience in steam manufacturing, MrSteam knows a thing or two about making the highest quality steam shower products. MrSteam is not just about the products it offers; it is about a mission we want to share with people around the world. One that reminds, empowers and enables us all to be healthy, live happy, and feel good. That's why we always say, "we feel good when you feel good."
Editor's Note:
The health and relaxation benefits of steam showers are described in detail above. But what about the other potential benefits of switching to steam? Here are a few that our team found:
Steam showers cost more to install, and may impact electricity bills, which are important factors to consider when making a decision. However, there's no denying that steam showers have a positive effect on home resale value. Since steam showers are quickly becoming a popular amenity, home buyers are willing to pay more for the luxury.
With incredible water savings, steam fits the bill for eco-friendly luxury! Using a steam shower over a traditional jetted shower might save over 150 gallons of water per 20-minute session. See MrSteam's analysis of the water savings steam showers provide over regular showers.
Interested in Learning More?
Installing a steam shower is an important decision that you want to get right the first time! To learn more about the benefits of steam and whether it's a good fit for your household, get in contact with MrSteam's friendly and knowledgeable team today!