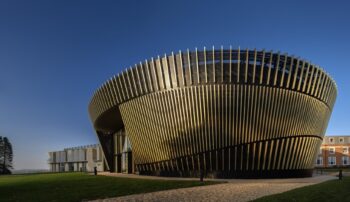 New Concert Hall and Music School Achieves 'Acoustic Perfection'
Conceived as a musical instrument in its own right, the new concert hall and music school situated at Benenden School, Kent, UK embodies acoustic perfection. From the materials used to the smallest details, Hollaway Studio has created a building that gives life to music, enriching the cultural education of both students and the local community.
As much a teaching and practice space as it is dedicated to performance, the Centenary Buildings include the unique 750-seat, timber-framed concert hall known as Centenary Hall; The Sir David K. P. Li Music School comprising the 150-seat Bonnie Yeung-Tsang Recital Hall which opens out onto the courtyard by the use of side glazing; digital media suites with state-of-the-art recording and performance facilities. Designed as a concert hall first, the building also works as a school hall, although Hollaway Studio considered it a 'mini Glyndebourne' during the design process.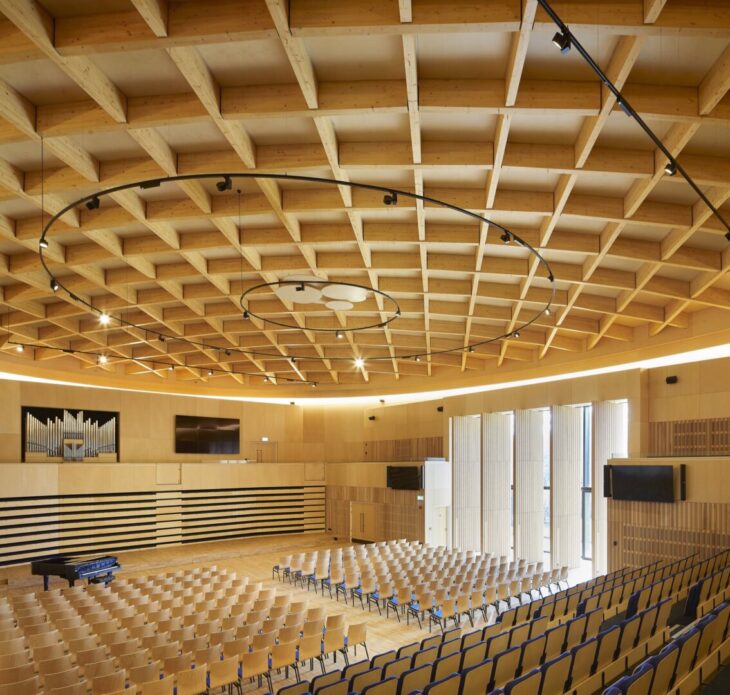 Inside the Sir David K. P. Li Music School there are more than 20 light-filled practice, rehearsal, percussion, and song rooms, with each room designed to respond to its anticipated use. The Music School links to the concert hall via the Beethoven Bridge through a stunning double-height atrium which also connects to the West Wing, Chapel and main school, and flows into the new Seniors' Courtyard outside.
Guy Hollaway, Principal Partner at Hollaway Studio, says "Centenary Hall is like a musical instrument in its own right. To create a mini Glyndebourne in this setting is an incredible feat of design and acoustic engineering and truly shows how important music is as part of an education. We wanted to create something that could be used in so many different ways to benefit the School and its surrounding community for now and generations to come."
Crucial to the structure are the Centenary Hall's giant doors that function as both an entrance and as sonic reflectors. When open, the doors let in natural light. When closed, they stand guard over the acoustics so that nothing can detract from it. Added to this, the fins of the timber façade emulate the strings of an instrument and fold around the air ducts concealing them from view. The striking diagrid roof is designed as both a structure and acoustic device in one. Its addition allows sound to bounce around the bays, encouraging the volume to feel larger, devoid of echoes.
These inspirational new facilities will enhance the experience of Benenden School students and the wider surrounding community for generations. As part of some of the opening activities to celebrate the new Centenary Buildings, Benenden recently welcomed more than 450 children from 13 local schools to attend three concerts performed by Kidenza, a local charity that aims to break down barriers to orchestral music for children of all ages and backgrounds. Concerts and performances will also be open to the general public as Benenden continues its commitment to give back to the community at large – something that Hollaway Studio is also dedicated to in its designs.

About Hollaway Studio
Hollaway Studio is an award-winning architecture and interiors practice that places people and feeling at the core of its philosophy of architecture. With offices in London and Kent and a strong reputation for design, the practice is working in a wide range of sectors including hospitality, hotels, restaurants, education and housing.  hollawaystudio.co.uk
About Benenden School
Benenden is regarded as one of the leading independent schools in Britain. Founded in 1923, it is situated in 250 acres of attractive parkland in Kent, the Garden of England, just an hour from London. The school serves a student population of 550 girls aged 11-18. benenden.school | hemstedpark.com