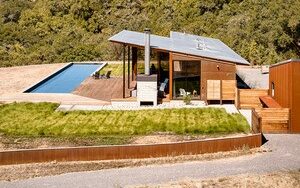 Northern California Residences Evoke their Natural Surroundings
Malcolm Davis Architecture's stunning Northern California residences intuitively sculpt light while masterfully evoking their natural surroundings, be they dramatic seaside landscapes or constrained urban infill lots. 
San Francisco, CA – Malcolm Davis Architecture (MDA), founded by Bay Area native, Malcolm Davis, AIA, is best known for its commitment to innovative and sustainable architecture that fully realizes its unique setting. Inspired by the Bay Region style, as well as the beauty of Northern California's coastlines and valleys, MDA's residential architecture intermingles the play of natural light with thoughtful interior and exterior connections.
Whether the firm begins with a blank slate or an existing structure, its projects develop character through careful interpretation and sensitivity to each client's program, as well as the site orientation, context, and climate. The result is modern architecture and interiors that convey a sense of context, a deep understanding of borrowed light, and are often filled with naturally harmonious and artfully repurposed materials.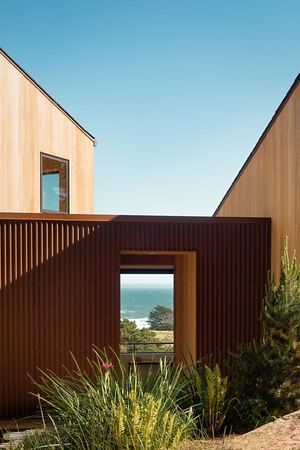 COASTAL RETREAT – For this Sea Ranch residence, MDA created a streamlined, modern getaway. The home's thoughtful 2,000 square feet is laid out in juxtaposing pod-like structures connected by a light filled entryway. In keeping with MDA's distinctive regional style, each volume is reminiscent of the vernacular, barn-like structures found in this iconic California locale, while offering a decidedly modern twist.
The home's quiet interior material palette consists primarily of simple elements like concrete flooring, plywood walls, and industrial Stonco lighting fixtures. Concrete floor slabs provide solar, thermal mass, while strategically positioned windows capture solar gain and operable skylights pull fresh air continually creating a home that passively heats and cools itself.  (Photography:  Joe Fletcher)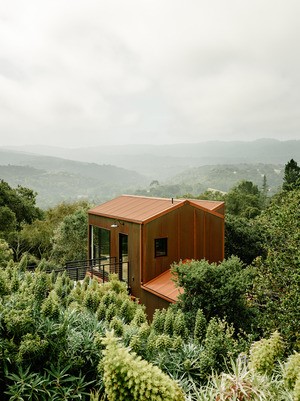 PORTOLA VALLEY – Designed around an existing oak tree, this home pulls elements from its woodland surroundings that allow it to seamlessly blend into the existing landscape. The exterior is finished with burnt cedar siding and stucco to create an earthy tone, while significant design moves were made to the interior, including the addition of large floor-to-ceiling windows and a wrap-around balcony off of the dining room to take full advantage of the landscape and natural light.
According to the homeowners, "Malcolm is a true artist. His home's honor light, flow and airiness like no other architect that we have seen. His design for our home also reflects a simplicity and timelessness that we greatly appreciate." (Photography:  Joe Fletcher)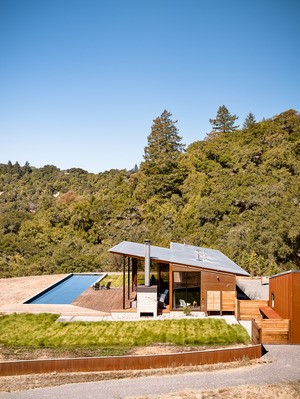 CAMP BAIRD – Passionate environmentalists, the clients for this residence desired a counterpoint to their busy, urban lives. Conceived as a family camp, the compound comprises two simple sheds and a lap pool, set against a California landscape of live oaks and bay trees, that is completely off the grid. Designed to blend in with the landscape, the camp takes its cues from materials and forms found in regional vernacular buildings. (Photography:  Joe Fletcher)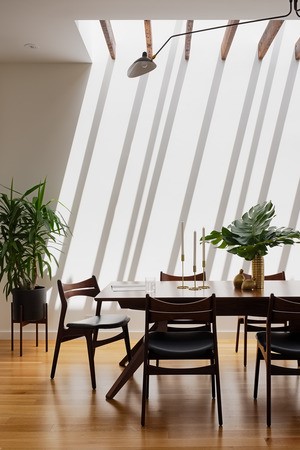 NOE STREET RESIDENCE – A young family purchased this home located on a dense San Francisco street after it had been flipped and stripped of character and charm. MDA was tasked with renovating and expanding the home to reinstate its connection to the neighborhood daylight, the garden below and views beyond. Reinterpreted and expanded in a modern vocabulary, it was transformed into a relaxed and inviting family home.(Photography:  Joe Fletcher)
About Malcolm Davis Architecture
Malcolm Davis Architecture's design philosophy is rooted in context, specifically site specific, classic forms imbued with strong interior and exterior connections. Utilizing natural light is of paramount importance, as are the unique challenges of urban infill, historic buildings and sustainable building strategies. With a passion for bringing warmth to modern design, the firm celebrates each project's character through careful interpretation and sensitivity to the program, orientation, context and climate, whether new build or renovation.