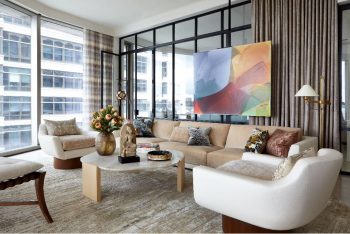 NYC Condo Transformed by Custom Steel and Glass Wall from Amuneal
Everyone loves a before and after! In William McIntosh Design's recent Leroy Street project, they removed a sheetrock partition and replaced it with a gorgeous custom fabricated steel and glass wall by the craftspeople at Amuneal.  Now, the homeowners at 160 Leroy can enjoy their beautiful Hudson River views preparing meals in the kitchen.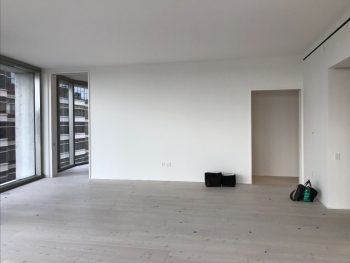 Before the project began, the kitchen was isolated from the rest of the living area. The clients desired a more open and continuous layout. The professionals at William McIntosh chose Amuneal doors to create a seamless transition between different spaces in the home, including the living room, kitchen and bedrooms.
The result was a twenty-two-foot expanse of floor-to ceiling-glass. At each end are pairs of glass doors to access the kitchen and bedrooms. A beautiful wool paisley curtain can be drawn conceal the kitchen for catering service, improving both the function and aesthetics of the space.
About Amuneal
With nearly 55 years of experience Amuneal is the country's largest and most respected supplier of magnetic shielding. Their ISO 9001 certified Technical Products Division supplies shielding designs and fabrication solutions to customers on the cutting edge of research and development supporting the most demanding and sensitive electronics applications.
Amuneal's award-winning Custom Fabrication Division offers a wide range of services and capabilities to architects and designers looking for a proven partner in bringing their ideas to life. Amuneal supports bespoke custom projects from their initial design development and engineering through fabrication, and final installation. In addition to these fully custom fabrication projects, this division offers a growing selection of Amuneal designed standard and semi-custom products for the high-end residential and commercial markets.

About William McIntosh Design
William McIntosh Design, is a New York City based interior design and decoration firm led by award-winning designers William McIntosh and Martin Raffone. The partners create sophisticated interiors that are individually conceived, refined and meticulously crafted. Luxury is the hallmark of the New York-based firm, whose work forges a perfect balance between timelessness and today. At the heart of every project is the belief that the best interior expresses personality and place. The resulting environments are inviting, stylish, and above all resolutely livable.