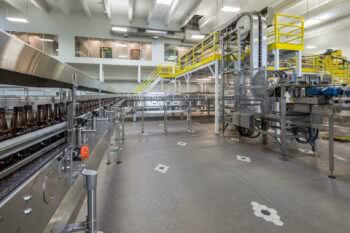 Successful Breweries Share a Preference for Hard-wearing Tile Floors
The more successful a brewery is, the more likely it is to have vitrified flooring.
That's the takeaway from the Brewers Association's recently released list of the Top 50 craft brewing companies in the U.S. Forty percent of the Top 50 breweries have Argelith brewery floors; the number rises to 56 percent of the Top 25 and seven out of the Top 10.
The Brewers Association is a not-for-profit trade group representing small and independent craft brewers. Each year it releases a list of the Top 50 craft breweries and Top 50 overall brewing companies by sales volume.
"Argelith enjoys strong relationships with our partners in the brewing industry, and we're proud to see so many of them on this list," Argelith Ceramic Tiles Inc. President Christian Nierenkoether said. "A durable floor is a key component of any successful brewery, and clearly the more beer a company sells the more they realize how important it is."
Sierra Nevada Brewing Co., which holds the No. 3 spot on the list, has Argelith Hexalith tiles in both its California and North Carolina breweries, founder Ken Grossman said.
"I'm a big fan of Argelith tile," Grossman said. "It's a great product that holds up to the rigors of brewing, including heavy water exposure and forklift traffic. Argelith has been a great partner to work with – very responsive to our needs and they stand behind their product. I recommend them without hesitation."
Sierra Nevada is joined in the list's Top 5 by Argelith customers Boston Beer Co. (No. 2) and New Belgium Brewing Co. (No. 4).
The Brewers Association also released its 2018 list of the Top 50 Overall Brewing Companies in the U.S. This list widens the field to include large mainstream brewers like Anheuser-Busch (No. 1) and Heineken (No. 4) – both of which have Argelith fully vitrified floors. Argelith customers made a strong showing in this field as well, with 42 percent of the Top 50 brewing on Argelith brewery floors in at least some of their facilities. Six out of the Top 10 companies have Argelith brewery floors, including four of the top five.
About Argelith
Argelith has been manufacturing ultra-durable industrial flooring for nearly 150 years. Chemical resistant, naturally hygienic and nonabsorbent, Argelith's fully vitrified tiles are a popular choice for food and beverage plants, chemical companies, and other industries hard on a floor. Argelith tiles' hard, dense structure resists abrasion and cracking better than other materials and can last for decades under the hardest use. For more information, visit www.argelithusa.com.