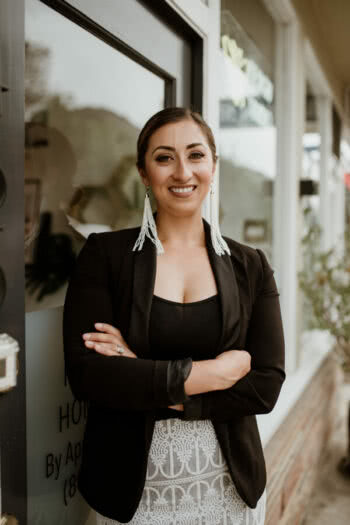 Ariana Lovato, AKBD
Owner and Principal of Honeycomb Home Design
"Our goal is to leave every space a more functional and stylish version of its original form. We're able to do this by understanding a client's needs, how the space feels, and injecting some fun, pattern and color."
Ariana's Design Approach:
Central Coast of California-based interior designer, Ariana Afshar Lovato, has always had a spark for design and all things creative. Ariana is an Associate Kitchen and Bath Designer with the NKBA, has earned an Associate's Degree in Interior Design from Fashion Institute of Design and Merchandising (F.I.D.M.), as well as a Bachelor's Degree in Business Administration from the University of LaVerne.  With her formal education, Ariana possesses a strong understanding of design and culture to create spaces based on her clients' passions and inspirations.
In 2016, Ariana founded Honeycomb Home Design, an Interior Design studio in Arroyo Grande, California. Honeycomb Home Design has a simple mission: creating timeless interiors with a modern edge. Ariana's clientele ranges from Physicians and Lawyers to busy families on the go. Honeycomb Home Design strives to be extremely organized and structured to ensure your design process goes as smoothly as possible.  Ariana understands time is money, and it's her goal to make the best use of your time and money!
See more of Ariana's work at: www.honeycombhomedesign.com.