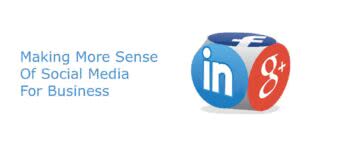 Making More Sense Of Social Media For Business
---


This course is registered with the AIA/CES for continuing professional education for 1.0 LU upon completion.
---
Architects and Designers have said:
"I found the "Making Sense of Social Media" webinar to be very enlightening if anything else. I know a lot about social media, but this webinar gave me some ideas on how to improve what I am already currently doing."
"The most valuable thing that I learned from this seminar was to create a brand through defining the value of your company and to be consistent. In truth, I was amazed by how much I learned. Now I have to put it into action!"
"I've just finished typing up my notes from your webinar,"Making Sense of Social Media". Thank you for presenting such a well-organized and clear presentation. It was an excellent starting point for me, coming at the right time, as I try to demystify, evaluate and keep pace with my social media efforts. Thanks so much!"
The question is not "Should I use social media?" but "What should I do and where?"
Social media plays an integral role in the design community; it can be daunting, however, for those who are accustomed to more traditional means of communicating with peers, customers and the industry at large. This session is for interior designers, showroom consultants, architects and other design professionals who are either new to social media and need a strategy for getting started or for those who need to jumpstart efforts that have not gotten off the ground.
Jim Nowakowski, President of Interline Creative Group, will lead this session on where and how to start in social media:
Which social media platform is best suited for your business? Whether it's best to go with Facebook, Twitter, LinkedIn and/or other sites to post content/ideas/questions depends on your strategy and who you are.
What do you want to achieve? Do you want to: Network with other professionals? Find new business? Keep in touch with established clients? Learn about new products and designs?
What will it take to reach those goals? Commit time and resources, think through the right tactics, and understand the "push" and "pull" of social media (e.g. It's not just about you broadcasting your message; you need to listen, too.)
In this session, which will keep to the spirit of social networking by encouraging audience interaction, Nowakowski will lead a discussion on what to consider when planning a social media strategy, how to build community and develop "I'll scratch your back if you scratch mine"& relationships, and more. Nowakowski will also cover why it's important to be authentic and how to share sales and marketing messages without turning off "followers" and "fans."