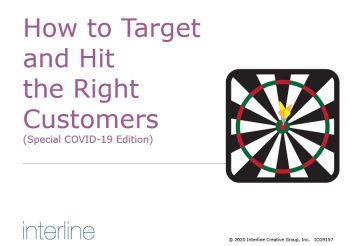 How to Target and Hit the Right Customers (special COVID-19 edition)
---


This course is registered with the AIA/CES for continuing professional education for 1.0 LU upon completion.
It is also registered with the NKBA for 0.1 credit upon completion.

---
Designed especially for today's executives in a difficult, virus-infected economy, this course brings together proven tactics and how they have to be re-shaped to help increase sales.
Specifically, it will empower you by "taking control" of finding new customers and nurturing them, which has changed so dramatically. It all begins with control and understanding of how customers and prospects consume, create and distribute information, and how that has changed in today's world.
Then, it shows your role in that three-part dance, and how to find, attract and nurture new business.
Presenter: Jim Nowakowski, President of Interline Creative Group.
Learning Objectives
Participants will learn how information is created, consumed and distributed in this digital disruptive, virus-infected environment.
Participants will discover techniques to find new prospects, as well as tactics to nurture them.
Participants will recognize how to gain knowledge from existing data and allocate time to increase sales through the creation of relevant content.
Participants will examine how to effectively build a strategy that will ultimately increase business.
Instructor Bio: Jim Nowakowski has been involved in marketing and marketing communications for over 20 years. Prior to working at Interline, he served in a variety of positions in ad/PR agencies, including Creative Director, Account Supervisor and Copywriter. He also worked as a reporter for newspapers and taught English for a number of years before entering the advertising profession. His current work for both advertisers and publishers in advertising focuses on understanding communications and purchasing patterns in business-to-business. Besides industrial publications, he has worked for publishers in building construction, automotive and healthcare markets, including developing marketing communications programs, conducting in-depth market research and building customer inquiry database systems. Jim has an M.A. from DePaul University, Chicago, and a B.A. from Lewis University, Lockport, Illinois.