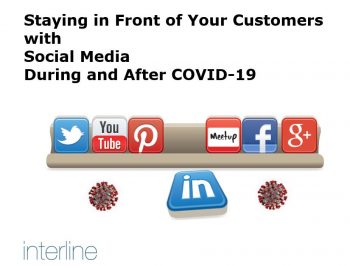 Staying in Front of Customers with Social Media During and After COVID-19
---



This course is registered with the AIA/CES for continuing professional education for 1.0 LU upon completion.
It is also registered with the IDCEC and NKBA for 0.1 credit upon completion.

---
The world of social media has generated significant attention and interest. Knowing how to navigate your business messages within these diverse and growing platforms can be a daunting task, but there is no question that it is essential in today's virtual world, especially considering the influence of COVID-19 on business.
This course reveals the hidden benefits social media can play in staying in front of your customers by focusing on integrating it with other marketing tactics. It uses examples to show attendees how strategy and audience are the keys to building successful customer interactions.
Presenter: Jim Nowakowski, President of Interline Creative Group.
Learning Objectives
Participants will expand their understanding of Social Media by recognizing how influential Social Media has become — Social Media is now essential in business . This begins with individual websites and encompasses the key Social Media sites for business: Facebook, Twitter, YouTube, LinkedIn, Instagram and Pinterest.
Participants will review recommendations to develop a successful strategy. Real life examples of Social Media in action will be shown as references.
Participants will be shown how to understand the benefits of each platform, which begins with building audiences from the social media resources as well as keeping the conversation consistent and interesting.
Through the use of examples, participants will gain the tools to maintain a social media presence and successfully integrate marketing tactics.
Instructor Bio: Jim Nowakowski has been involved in marketing and marketing communications for over 20 years. Prior to working at Interline, he served in a variety of positions in ad/PR agencies, including Creative Director, Account Supervisor and Copywriter. He also worked as a reporter for newspapers and taught English for a number of years before entering the advertising profession. His current work for both advertisers and publishers in advertising focuses on understanding communications and purchasing patterns in business-to-business. Besides industrial publications, he has worked for publishers in building construction, automotive and healthcare markets, including developing marketing communications programs, conducting in-depth market research and building customer inquiry database systems. Jim has an M.A. from DePaul University, Chicago, and a B.A. from Lewis University, Lockport, Illinois.