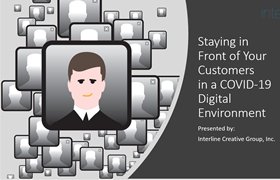 Staying in Front of Your Customers in a COVID-19 Digital Environment
---



This course is registered with the AIA/CES for continuing professional education for 1.0 LU upon completion.
It is also registered with the IDCEC and NKBA for 0.1 credit upon completion.

---
Jim Lovell, the Commander of Apollo 13 said, "There are three kinds of people in the world: those who make things happen, those who watch things happen, and those who wonder what happened." When COVID-19 hit, businesses everywhere had not only to deal with the virus, but with the government's reaction to the virus. Essentially, they didn't put businesses on pause: they put them on full stop. And we are going to live with these decisions for many years ahead of us.
This program will discuss how businesses can get a better understanding of the market today as it relates to servicing their customers within the digital disruption going on during and post COVID-19. You will gain a better understanding of the different types of tools available to keep your services relevant and of your own value in the scheme of business today. Most important, you will gain an understanding and appreciation of how the virus has spawned opportunities for your business using these tactics.
Presenter: Jim Nowakowski, President of Interline Creative Group.
At the end of this course, participants will:
Review business basics and how the basics never change despite digital disruption and COVID-19.
Determine your value proposition's validity under these conditions.
Emphasize Differentiation: what sets you apart and why that's critical.
Review tactics on how to stay in front of your customers in this virus-infected, digital environment.
Instructor Bio: Jim Nowakowski has been involved in marketing and marketing communications for over 20 years. Prior to working at Interline, he served in a variety of positions in ad/PR agencies, including Creative Director, Account Supervisor and Copywriter. He also worked as a reporter for newspapers and taught English for a number of years before entering the advertising profession. His current work for both advertisers and publishers in advertising focuses on understanding communications and purchasing patterns in business-to-business. Besides industrial publications, he has worked for publishers in building construction, automotive and healthcare markets, including developing marketing communications programs, conducting in-depth market research and building customer inquiry database systems. Jim has an M.A. from DePaul University, Chicago, and a B.A. from Lewis University, Lockport, Illinois.