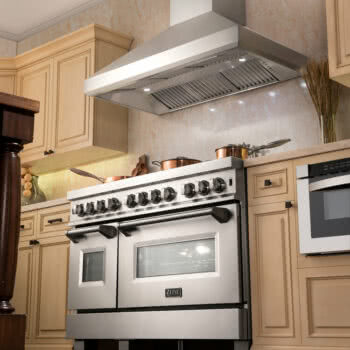 A Revolutionary Design: ZLINE DuraSnow® Kitchen Suite
The kitchen is the hub of the home – A place of culinary creations, family traditions, and a vital part of the daily routine. Since kitchen appliances are used constantly, they are certain to succumb to everyday wear and tear. With ZLINE Kitchen and Bath's breakthrough revolutionary finish, you can ensure your appliances are in pristine condition year after year.
As ZLINE Kitchen and Bath continues to showcase the essence of Attainable Luxury®, we are incredibly proud to introduce a full kitchen suite in the DuraSnow® finish. ZLINE is the exclusive manufacturer of DuraSnow® Stainless Steel, making a class of its own – now ranges, range hoods, dishwashers, and sinks are available in this proprietary finish.
What Sets DuraSnow® Apart?
Matching the beautiful complexion seen on stainless steel, ZLINE DuraSnow® appliances are made with a strong, industrial 304-grade material. This premium-grade steel deters the harshest of elements – weathering, rust, temperature, and corrosion-resistant properties allow for maximum durability and style.
DuraSnow® outshines its competitors due to its non-directional fingerprint and scratch-resistant finish – allowing you to easily combat everyday wear and tear on your appliances. When the tough gets going, DuraSnow remains resistant to Impress your guests at each and every holiday party with the consistent, sleek shine of your DuraSnow® kitchen suite.
Buff It Out
Accidents happen – especially when it comes to stainless steel. Before, if an accidental scratch was made on appliances, it was either a permanent eye-sore or a financial burden to resolve.
Now, you can have peace of mind knowing any scratches made on your ZLINE DuraSnow® appliances can be quickly and easily buffed out.
How is this done? With our soon-released DuraSnow® buffer pads, you can follow our simple-step remedy by buffing and following the non-directional brushed grain until it's as good as new. Ensure your ZLINE appliances' longevity and pristine finish with DuraSnow® appliances.
About ZLINE Kitchen and Bath
Founded by Andy Zuro, ZLINE Kitchen and Bath is based in the USA. Family owned, with headquarters in Ohio, Nevada and Tennessee, all products are designed and shipped from the United States by Andy and his team. All products come with an extensive and friendly manufacturer's warranty. To learn more about ZLINE and its products, please visit https://www.zlinekitchen.com/.