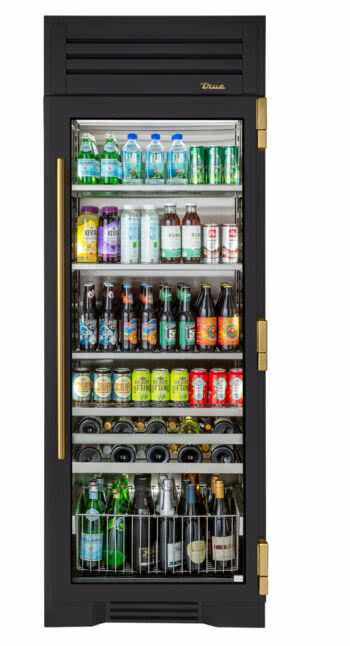 Add a Beverage Column When You Need More Space for Home Entertaining
True Residential Adds 30" Glass Door Beverage Center Columns to Their Extensive Array of Full-Sized Refrigeration Solutions
O'Fallon, MO –  True Residential, a luxury home refrigeration brand with commercial DNA, adds a stylish, solutions-based 30" Glass Door Beverage Center Column to its extensive array of handcrafted refrigeration options. Born out of a growing demand for full-sized units dedicated solely to beverages, the new introduction allows for a multitude of varying beverage storage heights and can be paired with a 30" Freezer, a 30" Wine Column, or even with one of True's side-by-sides for the ultimate in custom residential refrigeration.
True Residential Director of Sales and Marketing, Steve Proctor, says, "Our innovative approach to solutions-oriented refrigeration derives directly from listening to our clientele combined with an unwavering focus on introducing products with staying power. In this case, designers and their clients wanted a permanent place to store beverages for family gatherings, parties, soirées, and more. The new Glass Door Beverage Center Columns offer homeowners the freedom to design kitchens and/or entertaining vignettes that reflect the way they live, and look the way they want. That is complete luxury."
The new columns feature True Residential's industry-exclusive, antibacterial 300-series stainless steel both inside and out. With the brand's ramp-up, showcase interior LED lighting illuminating the interior, the Glass Door Beverage Center Columns offer a literal look inside true, high-end appliance design. In addition, intuitive True Precision Control and readout provides digital accuracy and easy operation. Composed of electro-polished stainless steel wire, shelving allows for seamless access to beverages from front to back. In addition, two PVC Vinyl-coated wine shelves allow for less movement and increased stability of wine bottle storage. The units are also equipped with an extra-tall wire basket that allows for upright bottle storage—a cross-support/matrix system allows for bottle immovability when sliding the basket out. The columns are available in the brand's Build Your True Collection of unique custom finishes and hardware options for the utmost in design flexibility.
About True Residential
A division of the third generation, family owned-and-operated True ® Manufacturing Company in St. Louis, True Residential was established to deliver the finest in high-end home refrigeration backed by a long legacy of commercial performance. Handcrafted in the USA with the same meticulous attention to quality and detail industry professionals demand, the residential series includes full-size refrigerators and refrigerator columns; and undercounter wine cabinets, refrigerators, beverage centers, refrigerator drawers, beer dispensers, and ice machines. For more information about True® Residential, call 888-616-8783 or visit true-residential.com.
Editor's Note:
Luxury is one of those words that keeps being redefined. In What Does Luxury Really Mean in Design?, Jim Nowakowski from Interline Creative Group spoke at KBIS® as part of the Voice of the Industry on social media, but before his session, Greg Rohl, VP of Marketing at Rohl spoke on a topic near and dear to many of our hearts: luxury. The blog is worth your time. For additional items within this category, simply search "luxury" on our website. Finally, Milton Pedraza, Luxury Institute CEO wrote an interesting opinion piece, How To Create An Emotionally Intelligent Organization you might find interesting.