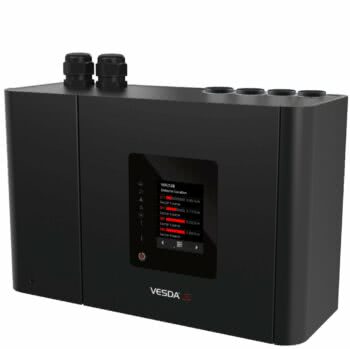 Why are Advanced Zones Important in Fire Protection for Buildings?
Any owner of a building knows how important fire protection is. But when you have a multiple room building as many showrooms and distributors have, what's the answer?
Xtralis launched its VESDA®-E VES aspirating smoke detectors. As part of the VESDA-E line of advanced smoke detection technology, VES aspirating smoke detectors allow users to divide protected areas into four distinct sectors to help ensure early detection and warning of a potential threat. The detectors also help reduce total cost of ownership by decreasing installation, commissioning and operating expenses.
The VES sector addressability provides individually configurable alarm levels for each of the four sectors, reducing the search path for early warning events to deliver optimum protection in highly secure environments or areas with clear zones. The new intuitive LCD display provides instant status reporting and allows real time event tracking.
"Downtime in data centers can cost businesses significant revenue losses," said Raj Kappali, general manager, global advanced fire detection, Honeywell Building Technologies. "Built on the latest advanced detection technology and years of application experience, VES leverages the latest detection technology to provide early detection of a potential threat and allow immediate and targeted response. This is exactly what a smart building fire detection system looks like."
VES offers reliable, very early warning and higher detection stability over wider range of environments through its Flair Detection Technology. The patented Flair technology employs the latest laser-based light scattering combined with CMOS image analysis for the best-in-class very early warning and nuisance alarm rejection.
VES detectors offer Ethernet and Wi-Fi connectivity with Xtralis software for configuration, secondary monitoring and maintenance. Additionally, the longer pipe runs of VESDA-E VES allow convenient detector mounting for accessible and reduced maintenance costs.
To learn more, call 1-800-229-4434. Or, consulting your engineer or architect.