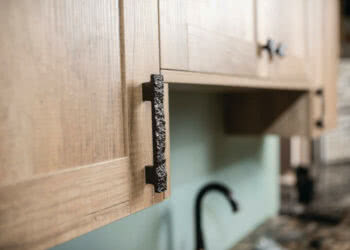 Belwith Keeler Offers Modern Interpretation of Rustic Cabinet Hardware with New Sandrine Collection
Raw, bold, and glamorous.
The Sandrine Collection: Inspired by archival furniture hardware design, this modern interpretation on rustic hardware is raw, bold, and glamorous with reflective finishes for a naturally dimensional accent.  Sandrine is organic in nature, molded from a chiseled concrete cinder block, creating texture from the depth, character, and natural asymmetry of its surfaces.  The scale of the collection makes a bold statement and will transform interiors based on finish – ranging from urban to rustic in matte black mist and vintage bronze, and also amplifying glam with satin nickel and polished brass.
About Belwith Keeler
Belwith-Keeler® is a brand refined in elegance, with trend-leading cabinet hardware design, inspired by the latest fashion. Our kitchen and bath hardware collections are refined with expert fit and finish, adding only the finest to our living library of design since 1893.