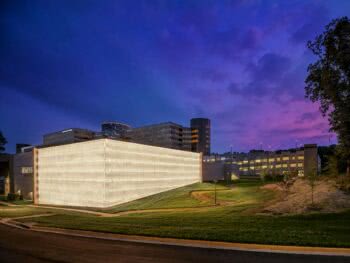 Bendheim Announces First Project in the Nation to Feature Its Vertically-and-Horizontally Shingled Glass Rainscreen System
Luminous Glass Cladding Dresses Massive Concrete Walls,  Enhances New Medical Center Facade
NEW YORK, NY – Inova Schar Cancer Institute in Fairfax, VA by Wilmot Sanz Architecture became the first project in the United States, and only the third in the world, to use Bendheim's vertically-and-horizontally shingled glass rainscreen system. The luminous rainscreen creates a sculptural feature wall on the exterior of the building.
Inova occupies a 117-acre site that previously served as Exxon Mobil's corporate HQ. Part of the effort to transform the 40-year-old campus into modern, patient-centered research and treatment center, the architects revamped the existing structures and added a new two-story proton therapy facility on the north-east end. The new addition houses highly sensitive imaging and diagnostic equipment, shielded behind 16-ft-thick reinforced concrete walls.
Bendheim's 8,000 sq. ft. glass rainscreen plays the key role in transforming the cold concrete volume into a design highlight. True to Wilmot Sanz's mission to deliver a patient-centered experience, the facade becomes a welcoming beacon. Constructed from translucent, ultra-white laminated textured glass, it scatters light, presenting a brilliant white aesthetic during the day. At night, the finely textured Solar™ glass diffuses cable LED back-lighting.
Bendheim engineered the glass with a structural SGP interlayer in order to use relatively lightweight 3/8" (10 mm) glass for the large, 5 ft. by 6 ft., cladding panels. The interlayer reinforces the glass so it can span under the imposed wind loads. The vertically-and-horizontally shingled panels are held in patented compression fittings, independent of each other, for ease and speed of installation. The cladding's continuous horizontal steel substructure sits atop a layer of rigid insulation, and doubles as an anchor for the cable LED lighting.
The glass rainscreen has more than an aesthetic and lighting role. It is necessary for the long-term performance and durability of the proton facility. The medical equipment it houses required a completely watertight building envelope. The specified Bendheim Wall-VH shingled glass system acts as a permanent moisture shield. It is fully tested in accordance with ASTM E330-02 for structural performance and AAMA 509-09 for its ability to stop more than 90 percent of wind-driven rain from reaching the air and vapor barrier of the building. The less than 10 percent of moisture that could get past the ventilated glass cladding dissipates quickly through drainage and evaporation.
Bendheim's technical design team is available to assist building and design professionals with glass system specification, customization, design, engineering, and detail drawings on specialty facade projects. For more information, please visit https://bendheim.com/system/ventilated-glass-facade-systems/.
About Bendheim:
Bendheim is one of the world's foremost resources for specialty architectural glass. Founded in New York City in 1927, the fourth-generation, family-owned company offers a virtually unlimited range of customizable glass solutions for interior and exterior building applications. Bendheim develops, fabricates, and distributes its products worldwide. The company maintains production facilities in New Jersey and a design lab in New York City. For additional information, please visit Bendheim.com.
Editor's Note:
BENDHEIM SCHEDULES RE-OPENINGOF DESIGNLAB™ IN NEW YORK CITY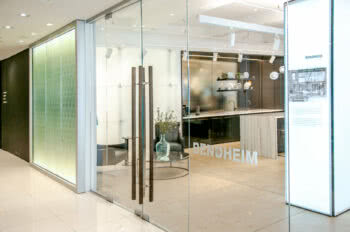 Architectural Glass Manufacturer Outlines Safety Protocols in Wake of COVID-19
NEW YORK, NY/July 1, 2020 – Bendheim announced its DesignLab™ in the New York Design Center will re-open on Monday, July 6.
The DesignLab™, at 200 Lexington Ave., will be open from 10:30 a.m. to 3:30 p.m. Monday through Thursday. The Lab is a comprehensive specialty glass education, specification, and design resource.
In re-opening, Bendheim is taking multiple precautions in the wake of the global pandemic to ensure the safety of visitors and staff.
With over 100 innovative showrooms, the New York Design Center in midtown Manhattan brings education and collaborative resources to the heart of the New York City architectural market.
Designers can collaborate with a Bendheim design consultant to create new glass types and tailored glass systems. The company's team of design consultants holds more than 90 years of combined experienced in the specialty glass industry to assist A&D professionals with custom product development and specification.
For appointments, call 1-800-221-7379 ext. 110.