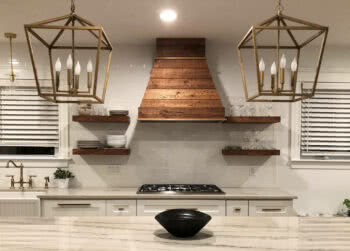 Castlewood Floating Shelves Provide Clean Modern Storage Option
CASTLEWOOD by AMS
manufactures Floating Shelves for use in modern kitchen, bath and living room applications. The shelves are made from hardwood plywood and solid lumber and come standard in widths from 24" to 72" and depths of 10" and 12". Available species include Alder, Cherry, Hickory, Maple, Red.
Oak and Paint Grade (MDF/Poplar). Standard weight capacity is 15 lbs. per square foot. A Heavy Duty Mounting System option is now available that increases the weight capacity to 300 lbs. per shelf. Specifications are available for download from the company website. Enhance your design creativity at www.castlewood.com.

About Castlewood
Castlewood by AMS is a manufacturer, importer and distributor of high quality decorative wood components for the cabinet and furniture manufacturing industries. Primary products include cabinet doors, carvings, countertop supports, drawer sides, face frames, floating shelves, moldings, range hoods, turnings, wine lattice and other related component parts. Services available include custom product development, quality control, sourcing, warehousing and logistics.
More information can be found on the company website, www.castlewood.com including a link to our latest catalog the "Book of Fine Carved Wood Decoration" – Volume IX.