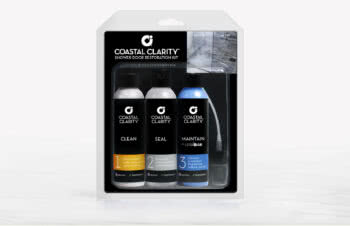 Coastal Shower Doors Launches New Cleaning Product That Restores Shower Doors to Original Beauty
Coastal Clarity Restoration Kit cleans, seals and maintains shower doors
JACKSONVILLE, Fla. – Coastal Shower Doors, a leader in high-end bath and shower enclosures, is expanding its offerings to include for the first time a shower enclosure cleaning product. The Coastal Clarity Restoration Kit is a comprehensive 3-step system specifically formulated to restore and preserve the beauty and clarity of shower doors.
"When a homeowner makes an investment in a high-quality shower door that will be the focal point of their bathroom, they don't want the beautiful look to be ruined over time by unsightly stains," said Ray Adams, President of Coastal Shower Doors. "There's nothing else like this on the market—conventional cleaning products just can't get the job done. The new Coastal Clarity Restoration Kit is a one-time solution that gets rid of hard water stains and restores the clarity of a shower door to its original factory finish."
Shower doors are constantly exposed to hard water and soap, a harmful combination that causes both surface-level stains and deeper glass damage. Soap scum and hard water stains not only look dirty but can seep into the pores of the glass causing oxidation and etching. Here's how the 3-step Coastal Clarity Restoration Kit helps clean and restore damage to glass shower doors:
Step One – CLEAN: The Coastal Clarity Clean Cream and Eliminator Pad buff away hard water stains, soap scum and oxidation that have built-up over time, and even clean stains found in microscopic scratches and etching in the glass.
Step Two – SEAL: Since cleaning alone will not reverse etching, Coastal Clarity Seal restores the factory finish of the glass by filling microscopic pores, scratches and etchings. This treatment also creates a streak-free water-repellant protective seal, which helps maintain the brilliance of the shower door for up to 18 months.
Step Three – MAINTAIN: Coastal Clarity Ultra Blue Maintain lifts dust, grime, bacteria, oil and contaminants and is specifically formulated to reduce surface tensions, allowing the glass to stay cleaner three to five times longer than with conventional cleaners. It is a residue-free cleaner that helps maintain the clarity of a glass door, especially when used on a weekly basis. Ultra Blue Maintain can also be used on fixtures, sinks, wall tile and countertops.
"Coastal Clarity was developed by chemists and is backed by science, making it far more effective at restoring and protecting shower doors than conventional cleaning products and home remedies found online," said Patrick Cobb, Director of Marketing and Design for Coastal Shower Doors. "Each Coastal Clarity step does a very specific job, and the science behind each is designed to work together to create a long-lasting, brilliant shine."
Coastal Clarity products are made in the U.S., and since they do not contain ammonia or any volatile organic chemicals (VOC's), they are friendly to the environment.
The Coastal Clarity Restoration Kit will be available in the shower department at Lowe's Home Improvement stores. Coastal Clarity Maintain Ultra Blue, step 3 in the Coastal Clarity Restoration Kit, will be sold separately in a larger, 16 oz. bottle. Visit www.coastalclarity.com for more information on availability.
About Coastal Shower Doors
Coastal Shower Doors combines cutting-edge manufacturing with ultramodern design to create the industry's finest bath and shower enclosures. Headquartered in Jacksonville, Fla., Coastal champions modern design, blending functional style into statement pieces that truly define a space. Each groundbreaking collection sets trends, offers chic solutions and stands apart as a design element on its own. Information about Coastal Shower Doors and the company's variety of products can be found at www.coastalshowerdoors.com.