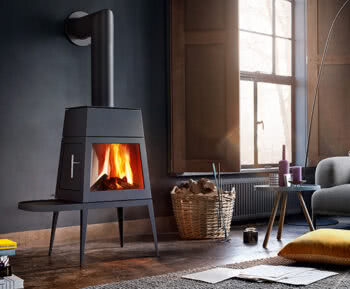 Contemporary Shaker Wood Burning Stove by Wittus Blends Tradition and Charm
A Classic Contemporary…
Pound Ridge, NY – The Shaker is a unique wood burning stove. It has immense contemporary appeal that combines tradition and charm and is a product that can adapt to various design scenarios. The brainchild of renowned Italian architect and product designer Antonio Citterio with Toan Nguyen, the Shaker stove's design is based on classic American Shaker furniture. Originally inspired by his wife's love of this distinct style, combined with the need to heat their home, Antonio designed the Shaker especially for this purpose.
The small but highly efficient firebox measures 14" high, 16" wide and 12" deep and has an efficiency rating of 78%. The Shaker body measures 36" high x 23" wide (at the bottom) and 14" wide (at the top) x 16" deep. The long bench measures 6 feet long. Made of steel and weighing between 300-330 lbs. depending on the model, this stove is a highly efficient heating machine. Both models include the option of a right or left side opening door.
The Shaker is a stove with history and honor, and now Wittus brings this product back to life. The proud recipient of the prestigious reddot design award and the Chicago Museum of Architecture Good Design award in 2006. This special stove is waiting for you to invite it into your home.
About Wittus
Wittus selects and imports a broad range of quality premier European designed hearth products (fireplaces, stoves, and accessories) to meet the needs of the American market. Wittus offers its products through a network of over 100 dealers, directly to professionals and consumers, and by retail in its Pound Ridge, NY showroom. To learn more, please visit www.wittus.com or call 914.764.5679 .