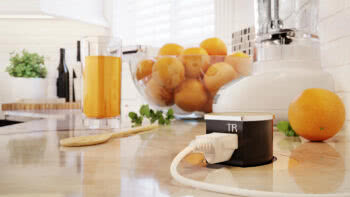 Countertop Pop Up Power
Torrance, CA — Doug Mockett & Company, Inc. announces a way to add power to your countertops. Mockett's PCS77A/USB Pop-Up Kitchen Power® Grommet is UL listed for use in kitchens and other wet areas, this unit is perfect for countertops, kitchen islands, breakfast bars, and other potential spill zones.
The PCS77A/USB Pop-Up Kitchen Power® Grommet comes equipped with two tamper resistant 20A receptacles and two USB charging inputs, and is perfect for small appliances and phone charging needs. With GFCI protection and a water tight seal, this unit is protected in both the open and closed position. The spring-loaded tower allows for easy access by simply pressing the top when power is needed and pressing back down to hide away when not in use.
Designers will find them available in three finishes: Matte White, Matte Black, and Glossy Metallic Silver.
The water tight seal on the CS77A/USB Pop-Up Kitchen Power® Grommet prevents liquids from getting inside the unit and protects the unit in both the open and closed position with an internal gasket protecting the electrical components and an external gasket providing a seal between the receptacle flange and the countertop. This alternative surface-mount power solution also eliminates potential safety hazards caused by power cords hanging over the edge of counters to reach side-mounted receptacles.
About Doug Mockett & Company Founded in 1980, Doug Mockett & Company is the leader in innovative furniture components and architectural hardware, providing "Fine Architectural Hardware for Your Fine Furniture™". We strive for simplicity in design and a spareness in execution. Quality is our guarantee and our commitment to serving you is our promise. We invite you to enjoy our extended product lines in Wire Management, Power & Data Grommets, Furniture Legs, Drawer Pulls, Casters, Coat Hooks, Shelf and Work Surface Supports, Kitchen, Bath and Closet accessories, new ideas in Computer-Into-Desk Integration, and a terrific line of Multi-Purpose Support Brackets.