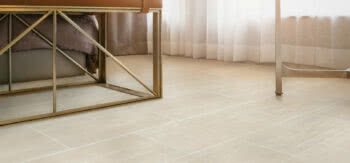 Daltile's Innovative New RevoTile Installs 2X Faster Than Traditional Tile, Saving Builders Time and Money
Dallas, TX – Daltile's NEW RevoTile is a spectacular game-changer for the residential building industry, and it was prominently featured in Daltile's booth #C4530 during the International Builders' Show (IBS) in Las Vegas, January 21-23.  RevoTile is a revolutionary, patented, porcelain tile floating floor system that installs 2X faster than traditional tile, saving builders time and money.  RevoTile installs in just three easy steps 1) Place Underlayment 2) Click Tiles Together and 3) Grout Immediately.  So easy anyone can do it.  RevoTile is genuine Daltile porcelain tile offered in twenty-six gorgeous marble, wood, stone, and concrete looks from the leader in tile design and innovation.  RevoTile — Real Beauty.  Real Porcelain.  Real Fast.
RevoTile Saves Builders Time & Money
"Time is money," said Dan Butterfield, vice president of builder/multi-family sales for Dal-Tile Corporation.  "RevoTile has been designed to dramatically reduce the time it takes to install tile.  Made by Daltile, the tile industry's trusted leader, RevoTile is a cutting-edge contribution that empowers residential builders and their supporting flooring contractors to achieve higher levels of productivity, value, and profitability."
The beauty and durability of porcelain tile makes it a widely used material in builders' residential and multi-family projects as well as an aspirational material highly desired by homeowners.  By adding the revolutionary benefits of fast and easy installation to tile's existing appeal, RevoTile saves builders time and money, improving their bottom-line.  With RevoTile's proprietary installation system, there is no mortar drying time, no messy two-part grout, and no return visits.  A builder's team can install and grout a tile floor 2X faster and with less mess.  RevoTile is easily installed by any member of a builder's team, including their available LVT (luxury vinyl tile), laminate, tile, and hardwood flooring installers, expanding the available pool of installers.
Easy As "1, 2, 3"
"This innovative product is unique; there is nothing like it on the market," added Butterfield.  "With RevoTile, the most beautiful, durable, and waterproof floor – porcelain tile – is now fast and easy to install like any floating floor on the market."
RevoTile's revolutionary, patented, floating floor system installs 2X faster than traditional tile in just 3 easy steps:
Step 1             Place              Place Underlayment, No Mortar Required
Step 2             Click               Click Tiles Together
Step 3             Grout             Grout Immediately, No Wait Time
Gorgeous Designs
"As a big player in style and design, Daltile offers the fashion-driven, on-trend products that interior designers, architects, builders, contractors, and homeowners are seeking," said Laura Grilli, lead product designer for Daltile.  "Daltile's new RevoTile line continues Daltile's legacy of delivering innovative, fashion-driven products that are the definition of Modern American luxury.  RevoTile's porcelain tile is offered in twenty-six gorgeous marble, wood, stone, and concrete looks from the leader in tile design and innovation.  This curated assortment of design-driven styles reflects today's most popular colors, textures, finishes, and sizes.  RevoTile is offered in three popular floor tile sizes:  12×24, 6×24 and 6×36.
RevoTile also features Daltile's state-of-the-art digital printing technology, Reveal Imaging.  This proprietary innovation produces realistic color, detail, and veining that are unique on every single tile, for a look that's virtually indistinguishable from the material being emulated.
Additional Installation Benefits
Patented RevoTile is genuine Daltile porcelain tile enhanced with a proprietary RevoCore featuring patented ClicFit Technology designed by the experts in locking systems in the industry.  ClicFit fosters consistent alignment and no lippage, equipping any member of a builder's team with the ability to easily achieve professional-looking results.
RevoTile installs right over many existing floors, avoiding the need for demolition and removal.  There is no mortar drying time, no two-part grout, and no return visits.  Also, because mortar is not used, a RevoTile floor is easy to remove.  This is great for repairs and ideal when the homeowner's style preferences change over time and a refresh is desired.  Easy removal of a tile floor is especially attractive to millennials who value flexibility in home design.  Easy removal is also beneficial regarding home resale.
Nationwide Distribution
Currently launching nationwide, Daltile's RevoTile is available through Daltile's 250+ company-owned sales service centers, providing the ultimate level of product availability and service.
About Daltile
Daltile is the industry-leading brand of ceramic, porcelain, glass, and metal tile as well as natural stone, large-format slab, and countertop products. Daltile products are distributed through over 250 company-owned sales service centers, stone slab yards, and gallery design centers that service a robust network of trade customers.  Daltile products are also sold through independent flooring retailers.  Dedicated to innovative product development and distinguished style, Daltile provides a rich palette of quality products created to inspire residential and commercial designs. For more information, visit daltile.com and follow Daltile on Facebook, Twitter and YouTube.