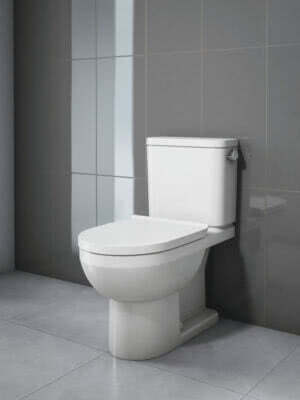 DuraStyle Basic: Newest ADA-Compliant Toilet by Duravit
Atlanta, GA ⎯  Duravit USA is committed to providing a vast range of product solutions to promote universal access and design to all. The company's latest launch, the DuraStyle Basic floor-standing toilet, was designed specifically with the North American market in mind. This toilet joins Duravit's SensoWash® i integrated shower-toilet and ME by Starck floor-standing toilet as the German-founded brand's newest ADA-compliant toilet options. Additional wall-mounted toilets, available in ten of the brand's ceramic collections (in an array of sizes and styles), afford a plethora of solutions to suit any bathroom project.
"We believe in offering preeminent bathroom solutions with products that are designed to fit seamlessly into modern life. ADA-compliant solutions and products that can be leveraged across Universal Design schemes are a large focus for Duravit," says Tim Schroeder, President of Duravit USA. "We are pleased to offer a growing number of ADA-compliant toilets that range in style, market budget and size."
As the American household is rapidly changing, Universal Design, or the concept of creating a space that can be used by everyone regardless of age or ability, is an increasingly important topic. According to a recent statistic from the National Building Museum, "Our population is aging rapidly and will need new housing solutions that can support aging-in-place with diminished physical or cognitive abilities. America's housing supply, however, has been slow to respond to these extraordinary demographic shifts." According to the Center for Universal Design, "barrier-free design and architectural accessibility recognizes the legal, economic and social power of a concept that addresses the…needs of people with and without disabilities." In recognition that such features can be provided en mass in ways that are attractive and marketable, the Universal Design movement has been able to make significant and positive impact across the design industry in America. Duravit is committed to staying ahead of product development trends satisfying and pushing the needle forward to adhere to market needs and codes where ADA compliance and Universal Design compatibility are concerned.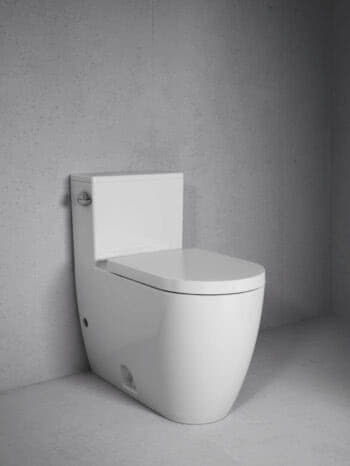 DuraStyle Basic Floor-standing Toilet, ADA Compliant
Duravit's new DuraStyle Basic floor standing toilet features rimless and HygieneGlaze 2.0 technology, in addition to dual flush capabilities; flush handles can be specified for left or right hand approach. ADA compliant in height (17″), this toilet (one-piece and two-piece models available) is a product designed by Duravit specifically for the North American market at a very accessible price point.
ME by Starck Floor-standing Toilet, ADA Compliant
The ME by Starck floor-standing toilet, designed by Philippe Starck, is the perfect addition to an otherwise highly-successful collection, which was originally created based on the concept of "design for all." The ME by Starck toilet encapsulates the collection's function to offer individualized solutions for any and every bathroom with design and diversity in mind, and is a sleek ADA solution with its 17 3/4″ overall height and options for a left or right side flush lever.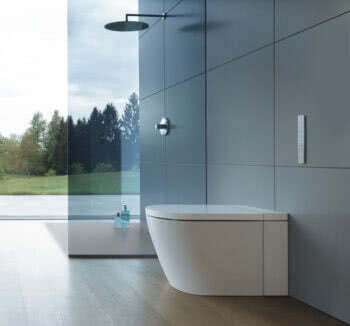 SensoWash® i Shower-Toilet, ADA Compliant
Duravit's SensoWash® i is the brand's first fully integrated shower-toilet, available in Plus and Lite versions. Offering intelligent design, SensoWash® is the latest wellness innovation from Philippe STarck with impeccable quality and attention to detail. Driven by technology and the best in hygienic design, SensoWash® i incorporates Rear-, Lady- and Comfortwash in its shower-toilet functionality as well as a heated seat, odor extraction, individual adjustments for water, air dryer and seat temperature, an automatic opening/closing lid (Plus version only). For a full list of features on this superior toilet, please visit www.duravit.us/products/all_series/sensowash_i.
Additional wall-mounted ADA-compliant toilets from Duravit are available in almost every ceramic selection. Notable features include space saving, technology innovations such as Duravit Rimless® and HygieneGlaze, optional SensoWash® combinations for some models, and open-front seats on various models. Above all, Duravit offers one of the widest ranges of toilet solutions for residential and hospitality Universal Design plans. An industry leader in technology, design and innovation, Duravit is committed to offering a variety of solutions that support ubiquitous access, quality of life and great design to afford aging in place.
About Duravit
Founded in 1817 in the heart of Germany's Black Forest, Duravit is a leading manufacturer of designer bathrooms. Duravit operates in 130 countries worldwide and has been honored with numerous national and international awards for its innovations in design and technology. The company's collaborations with internationally renowned designers such as Philippe Starck, Phoenix Design, EOOS, Norman Foster and sieger design yield forward-thinking, environmentally conscious and award-winning products that bring the bathroom to life. Duravit USA, Inc. headquarters are based in Duluth, GA.