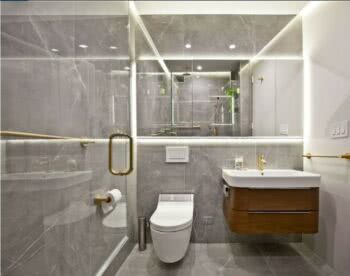 Duravit USA Announces Winners of its Annual Designer Dream Bath Competition
THE VOTES ARE IN!
Duravit USA has announced the winners of its annual Designer Dream Bath Competition for 2019 in partnership with Frank Webb Home.
The winners are Paris Kostopoulos and Tina Psoinos of Paris K Design, with honorable mentions given to Bori Kang of Richard Meier & Partners and Cornelia Kanakis-Wittenberg of Spaciality, Inc.
"We are pleased to present the winners of our annual Designer Dream Bath Competition," stated Duravit USA President, Tim Schroeder. "Through our partnership with Frank Webb Home, this year's submissions tapped into the innovation present within the Northeast A+D community. Each finalist presented a thoughtful use of Duravit product to tackle unique design challenges, and we laud their efforts and creativity."
About Duravit
Founded in 1817 in the heart of Germany's Black Forest, Duravit is a leading manufacturer of designer bathrooms. Duravit operates in 130 countries worldwide and has been honored with numerous national and international awards for its innovations in design and technology. The company's collaborations with internationally renowned designers such as Philippe Starck, Phoenix Design, EOOS, Norman Foster and sieger design yield forward-thinking, environmentally conscious and award-winning products that bring the bathroom to life. Duravit USA, Inc. headquarters are based in Duluth, GA. For more information on Duravit or to find a local distributor, visit www.duravit.us or call 888-DURAVIT.