Eldorado Stone Introduces New Color Palettes for Three Classic Stone Profiles
Lighter hues accentuate unique tones and natural textures of three different profiles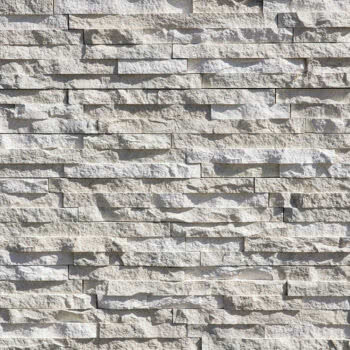 SAN DIEGO, CA –  Eldorado Stone, manufacturer of the world's most believable architectural stone veneer, introduces crisp, new color palettes to highlight the unique aesthetics of three stone veneer profiles. As contemporary design options remain in high demand from project specifiers, the innovative application of multilayered color notes in Sea Cliff™ European Ledge®, Loire Valley™ RoughCut® and Koryak Ridge™ Stacked Stone provide a versatile design statement that artfully blends modern hues with classic, nature inspired textures to suit a wide range of residential and commercial spaces.
"We've been seeing an increased interest for unique design solutions that combine old-world and new-world appeal, which is why we've created three new color palettes to help modernize some of our classic profiles," said Sarah Lograsso, Director of Marketing. "With the introduction of Sea Cliff European Ledge, Loire Valley RoughCut and Koryak Ridge Stacked Stone, specifiers can now incorporate fresh new colors in a variety of ways without neglecting the more traditional appeal of stone surfaces."
The introduction of the new hues expands Eldorado Stone's contemporary offerings:
• Koryak Ridge™ Stacked Stone interprets the dappled highlights and shadows of diffused sunlight spilling over the contours of a rugged rock face. Its classic elegance reveals intricate detailing with the simplicity of a panelized system to give the appearance of a precision hand-laid dry-stack set.
• Sea Cliff™ European Ledge® evokes the sun-speckled cliffs along the Mediterranean Sea with a unique balance of light creams and bright highlights across weather-worn surface contours and precision-cut stone to create the perfect fusion between old-world stonework and modern design. The split-face travertine surface is assembled into tightly stacked ledge pieces with varying surface heights and lengths.
• Inspired by the French countryside after which it derives its name, Loire Valley™ RoughCut® presents a sophisticated gradient of ivories and muted creams with touches of sand and rust. The bold, hand formed shapes of RoughCut incorporate embedded, fossilized artifacts on a roughly cleaved, pronounced face to mimic the character of limestone.
To learn more about Eldorado Stone and its products, visit EldoradoStone.com.
About Eldorado Stone
Eldorado Stone, LLC is the manufacturer of the world's most believable architectural stone veneer and is headquartered in San Marcos, California. For over 50 years, Eldorado Stone has demonstrated an undeniable passion for creating authentic products that elevate quality and design, including architectural stone and brick veneer, fireplace surrounds, fire bowls and outdoor living products. The company currently operates manufacturing facilities in several states with regional distribution centers across the U.S. For more information and to view a gallery of beautiful installations, visit www.eldoradostone.com.