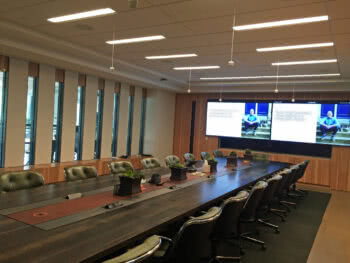 Energy Efficient Lighting Systems: Brightline Upgrades Deliver Better Lighting for Conference Rooms, Multi-Purpose Spaces
Bridgeville, Penn. – Brightline, a leading manufacturer of energy efficient lighting systems, today announced an international company focused on transportation services recently upgraded three rooms in its Pittsburgh offices with Brightline LED fixtures. Installed last summer, the new lighting fixtures improved the lighting in two conference rooms and a multi-purpose space.
"Each room had different ceiling aesthetics and requirements," explained Kathy Katz, Brightline managing partner. "Lighting is supposed to enhance a workspace, not detract from it. As a result, each individual project within the building required different Brightline fixtures to maintain the look of each room, while providing the functionality needed for everyday meetings and videoconferencing sessions."
In the main conference room, 12 LED VideoPlus flush-mounted fixtures deliver warm 3200K light to complement the wood tones of the walls and furniture. Previously, the room had featured mini-spotlight fixtures in an inefficient pattern design, but Brightline created a more standard pattern on the ceiling.
"The new pattern provides a more unified lighting design," Katz said. "It provides better lighting angles for videoconferencing and excellent task lighting for other meetings. So far, the feedback has been very positive."
Brightline added eight Flex-T fixtures to an existing layout in a smaller conference room. There are two LED light modules in each fixture, one configured for videoconferencing and the other for general task lighting. Using the patented articulation feature, each Flex-T was rotated in place in the T-Bar ceiling, so the lights could be positioned for maximum efficiency without have to rearrange the ceiling pattern.
In the multi-purpose space, which is used for larger company meetings, six Brightline BL.16 long-throw LED spotlights were installed to light the stage and lectern area. The space features an open industrialized ceiling, so the lights were mounted on a thread rod. The BL.16 fixtures provide 3200K lighting for the space, but interchangeable cartridges allow the company to change the color temperature to 5600K (daylight) or change the optical field pattern, if needed.
About Brightline
A leading manufacturer of energy-efficient lighting systems for broadcast, videoconference, e‑learning, and government, Brightline's mission is to enable communication through clarity. With more than 5,000 customers in over 35 countries, Brightline specializes in enhancing the presentation of visual images by providing high quality, environmentally responsible, and cost-effective evolutionary lighting solutions. Get enlightened at brightlines.com.