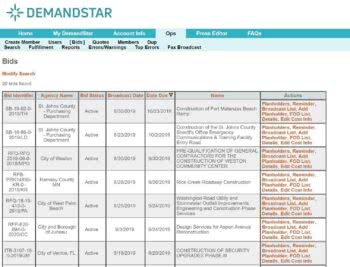 Finding Projects with the Government Agencies Just Got Easier with DemandStar E-Procurement Platform
Seattle, Wash. — DemandStar, the online network connecting government procurement officers with local and national suppliers, has signed nine new agencies in August, allowing these agencies, including a public hospital and school districts, to easily post and promote bids. Local businesses are now automatically made aware of these new opportunities and are able to submit bids to potentially win and secure government contracts to support their growth.
"Government opportunities continue to be a great way for local businesses to secure new contracts. For the second month in a row, DemandStar welcomed nine new agencies to our growing management system," said Ben Vaught, CEO of DemandStar. "As more and more agencies and businesses join us, communities are able to deliver better, more cost efficient solutions to meet the needs of their cities, counties, or states."
The DemandStar platform has over 495 government agencies signed up across the US. It is priced for business by offering the first connection to a government agency free, and then national pricing that varies by market. Government agencies can join for free.
The nine new government agencies are:
Florida
City of Edgewood
Port of Palm Beach
Gadsden County Board of County Commissioners
Hendry County School Board
Memorial Healthcare System
Illinois
City of Palos Heights
New Jersey
Camden County Educational Services Commission
Missouri
City of Mosby
Wisconsin
Wauwatosa School District
For more information, visit www.demandstar.com or call (206) 940-0305.
ABOUT DEMANDSTAR 
DemandStar builds communities by connecting government agencies quickly and efficiently with quality suppliers. Founded in 1998, they pioneered the online marketplace concept for bidding on government contracts and now serve as the gateway for partnerships between government agencies and suppliers both locally and nationally throughout the United States. For more information or for government agencies and suppliers interested in joining DemandStar's network, please visit www.demandstar.com or call (206) 940-0305.