Floor Heating Elements Continue to Satisfy Consumer Demand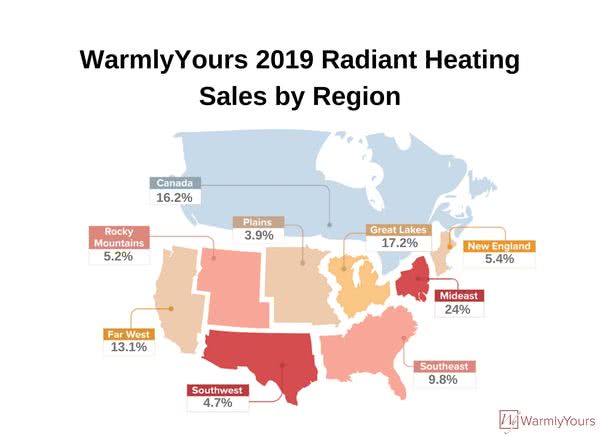 Cameron Witbeck, Manager, Marketing Communications at WarmlyYours.com Inc. is reporting that the 2019 significant change in the sales volume contributions within the company's product portfolio was in response to external market forces (like the record setting winter of 2018-2019) and changes in consumer buying patterns.
All of this was set against a national housing market that continues to display volatility due to pricing/supply issues and a similarly affected remodeling market. While the housing market's supply woes are not expected to be ameliorated immediately, some national metrics do indicate improved sales levels in many markets. Additionally, projections for the remodeling market are no longer expecting sustained decreases in homeowner expenditures but are instead expecting a mild uptick by the end of 2020.
Despite these market factors, WarmlyYours was able to post positive sales growth in the fourth quarter and over the entire year of 2019. Witbeck points out that TempZone Easy Mats not only grew in the fourth quarter but throughout all of 2019, posting a year-over-year growth rate of 10.3%. The TempZone Easy Mat now makes up 8% of all floor heating sales. There are several reasons for this swift increase.
In 2019, 87.2% of the floors heated involved tile, marble, or stone. These floor coverings are most commonly paired with our TempZone heating systems, which are embedded in thinset or self-leveling cement underneath. The TempZone Easy Mat also lends itself to easier installation for DIYers or flooring professionals that don't specialize in radiant heating, as they're simply adhered to the subfloor before embedding.
Julia Billen, owner and president of WarmlyYours, also had some thoughts relating to increased popularity of the TempZone Easy Mat.
"One thing that has made the TempZone Easy Mat so popular is that it can be 'paired' with common bathroom fixtures to ensure that radiant heat is delivered where it's needed most. For example, we have a perfect mat to pair with a double vanity, so that two people can get ready in the morning at the same time while enjoying warmth and comfort. If you want to keep the area outside of your shower warm, we have a mat for that too," said Billen. "And the great thing is, by using Easy Mats, you can literally pick the new "hot spot" in your kitchen or living room for your family to hang out—because it's going to be the warmest and most comfortable spot in your entire home!"
Another driving factor for TempZone Easy Mats was the fact that WarmlyYours Amazon sales of floor heating products were up 125.9% for the year (an almost identical increase to its Q4 2019 uptick of 125.8%). The TempZone Easy Mat has proven to be an extremely popular option for ecommerce when it's paired with a thermostat as a floor heating kit. We fully expect this trend to continue into 2020 as even more homeowners and professionals turn to Amazon and other ecommerce channels for their home improvement shopping.
To see the full report, go to: https://www.warmlyyours.com/en-US/posts/q3-2019-continued-sales-growth-for-membranes-floor-heating-cable.
About WarmlyYours
WarmlyYours, in Lake Zurich, IL, offers the most comprehensive radiant heating support in the industry, including electric floor heating, snow melting, ice shield roof and gutter deicing, pipe freeze protection and other products including towel warmers, infrared radiant heating panels and more.