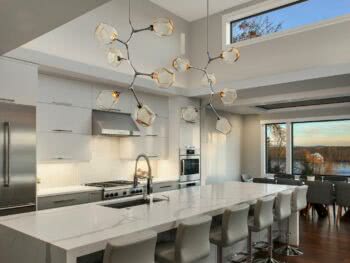 Hammerton Studio Introduces New Modern Branch and Modern Vine Blown Glass Chandeliers
Salt Lake City, UT – Hammerton Studio introduces its new Modern Branch and Modern Vine chandeliers, which offer the perfect finishing touch for kitchens and dining rooms.
Modern Branch:
A 'branching bubble' chandelier unlike any other, the Modern Branch is perfect over a dining room table, a kitchen island or pool table.
Modern Vine: A whimsical interpretation of a flowering vine, its vertical orientation makes the Modern Vine a bold alternative to pendants and other fixtures commonly used over large kitchen islands.
These new Modern Branch and Modern Vine chandeliers from Hammerton feature:
a familiar fixture style, elevated with one-of-a-kind artisan blown glass shades
a choice of five glass styles ranging from organic to traditional in inspiration
superior quality integrated LED illuminating each glass shade and eliminating the distraction of filament bulbs
retail price points at less than $3000
two configurations with 6 or 8 pieces of glass
a choice of eight superior finishes
About Hammerton Studio
Hammerton Studio stands atop a quarter century of company experience pushing the boundaries of innovative custom lighting design. Each collection has been inspired by custom work brought to life by the Hammerton design team in collaboration with leading interior design professionals over the years. Built to your specifications by our artisans, every light reflects the uncompromising design and attention to detail that is distinctly Hammerton. To learn more, please call 801-973-8095 or visit www.hammertonstudio.com.