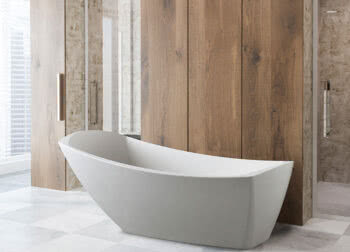 Hastings Tile & Bath Announces Launch of Versatile New Bathtub Collection
Ronkonkoma, NY – Hastings Tile & Bath is excited to announce the launch of a brand-new bathtub collection in a myriad of styles, including the relaunch of the popular freestanding Chelsea bathtub, which makes its debut at this year's ICFF. Made in America, the new version of the versatile Chelsea bathtub is now offered in two sizes—60 inches and 66 inches.
Further fostering the ultimate in relaxation and tranquility, five other versatile bathtub designs join the Chelsea, each available in a variety of sizes and a choice of four exciting finishes: a sleek polished white, a modern matte white, a shiny polished gray and a velvety matte gray. An appealing bath stool rounds out the collection.
For more information, please call 631-285-3330 or visit www.hastingstilebath.com.

About Hastings Tile & Bath
Hastings Tile & Bath Inc. is a leading importer, distributor and retailer of contemporary tile and bath products for the luxury market. Hastings products are sold through an extensive dealer network as well as our Company-owned and operated showroom in New York City.