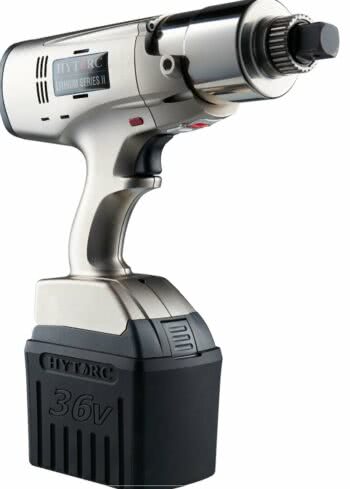 HYTORC Receives 2019 Pro Tools Innovation Award for LITHIUM SERIES® II Tool Technology
Judges call the winning entry in the Cordless Specialty Drills/Drivers category 'the most advanced fastening tool we've seen so far.'
MAHWAH, N.J. — HYTORC, the oldest and most recognized manufacturer of industrial bolting systems in the world, today announced that it has received the winning honor in the 2019 Pro Tools Innovation Awards (PTIA) Cordless Specialty Drills/Drivers category for its LITHIUM SERIES® II Tool.
A diverse panel of judges made up of contractors, construction business owners, tradesmen and media professionals from across the US came together to vote on entries submitted by top global manufacturers. Here's what the judges said about HYTORC's LITHIUM SERIES® II:
"The HYTORC LITHIUM SERIES® II Electric Torque Tool is one part fastening tool and one part scientific instrument, albeit a very well-built scientific instrument. We say this with a healthy respect and sense of awe for what all is built into the tool. Models go as high as 5,000 ft-lbs of max torque using a 36V battery for industrial applications that have to be very accurate.
"Repeatable, controllable fastening torque has been the Holy Grail of smart tools since they first started coming out and HYTORC seems to have dialed it in. Add in wireless communication and an LCD control screen and you have the most advanced fastening tool we've seen so far."
After looking through and judging hundreds of power tools, hand tools, fasteners and accessories, winners were chosen based on industry innovation. Winners consistently demonstrated achievement in any combination of the following: innovative features, advanced power delivery, groundbreaking ergonomics, technological advancements and value. The 2019 Pro Tool Innovation Awards recognize best-in-class products that are truly ahead of their time.
"We are honored to receive the PTIA Tool Innovation Award in the Cordless Specialty Drills/Drivers category," HYTORC President Eric P. Junkers said. "It is an exciting time for HYTORC. The industry is seeing how innovative our LITHIUM SERIES® II Tool technology is in providing industrial users with the flexibility they need to get their bolting jobs done efficiently, accurately and at a cost savings. This award confirms that this technology from HYTORC is like no other in the industry."
The LITHIUM SERIES® II Tool is a ground-breaking innovation with TorcSense™ Technology, an all-new method of direct torque measurement and closed loop control to provide more repeatable bolting performance. The tool has a new brushless 36V motor coupled with a more robust gearbox optimized to deliver increased strength and control in heavy industry applications. The User Interface has been redesigned from the ground up to provide intuitive access to all software-controlled bolting features through the high-resolution display and push button control panel. The LITHIUM SERIES® II Tool also contains a wide array of data acquisition and advanced bolting features that set the standard for next generation bolting.
"Each year, manufacturers reach further and further to innovate and improve their products, helping improve job site efficiency, safety and productivity. While incremental advancements are the norm, some products truly distinguish themselves in the industry and deserve particular recognition. Business owners, builders, contractors and tradespeople can look to the Pro Tool Innovation Awards to find the products that will help them work more quickly, safely and with greater efficiency," said Clint DeBoer, Executive Director of the Pro Tool Innovation Awards. "These new tools also tend to save pros and businesses money in either material costs or time-savings. That's the kind of innovation that often speaks the loudest."
About HYTORC
HYTORC is the world's largest, oldest, proven, most trusted manufacturer of industrial bolting systems. The international company is family-owned and operated, and has been in business since 1968. With a focus on worldclass customer service, the company has more than 50 locations in the United States and a comprehensive network of dedicated distributors and service centers worldwide. For more information, visit www.hytorc.com.