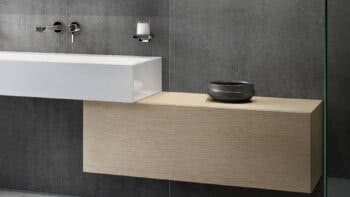 Keuco Edition 90 Bathroom Furniture Collection Inspires Perfect Harmony Through 90-Degree Angles
DULUTH, GA – Keuco's Edition 90 collection of bathroom furniture and accessories merges the round with the squared in perfect harmony. The 90-degree angles that inspired the edition's name are found throughout the entire collection of furniture pieces with matching bathroom accessories and light mirrors. This edition represents quality, luxury and conscious use of materials.
Possibilities are endless when it comes to bathroom design with Edition 90 furniture pieces. Items can be combined freely and in multiple ways in both size and color with separate washbasins, enabling individual design creativity. Plinth packages or polished chrome legs as well as ceramic cover plates in slate or marble optic are available for the furniture, catering to the user's personal lifestyle preferences.
About Keuco
To learn more about Keuco and furniture options for the modern bathroom, please visit www.keuco.com or call 877-281-8260.