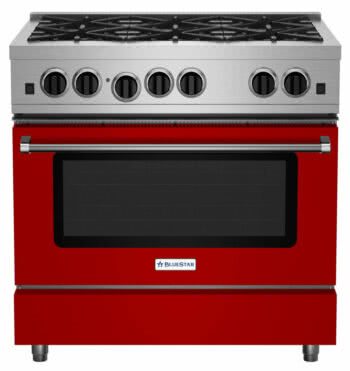 Kitchen Designs Pop with New Color Color & Trim Choices on Popular BlueStar® Ranges
BLANDON, PA – BlueStar®, manufacturer of high-performance appliances for the home, is extending its customization options to its Sealed Burner gas ranges. With 21,000 BTU burners, the Culinary Series (RCS) Sealed Burner range is one of the most powerful sealed burner options on the market and is now available in the same array of colors and metal trims as the BlueStar® Platinum and Nova Series open burner gas ranges.
BlueStar® has been a leader in appliance color and customization for more than a decade and is the only pro-style appliance brand to offer virtually unlimited options for personalization across cooking, ventilation and refrigeration, including more than 750 colors and finishes and 10 metal trim options.
The Sealed Burner Series combines commercial-style features with a sleek design. It features the BlueStar® signature extra-large oven that can accommodate a full-size 18"x 26" commercial baking sheet. The combination of convection fan system and oven design provides incredibly even heat distribution for precise baking results. The oven's infrared broiler produces 1850° of intense, searing heat close to the burner, and a gentler broil for foods placed farther away. The full motion grates lets you move pots and pans seamlessly across the cooking surface, and the top allows for a quick and easy clean up.
The Sealed Burner ranges are available in 24", 30"and 36" sizes, and pair perfectly with BlueStar's comprehensive line of kitchen ventilation products, which can be customized to match the color of the range.
BlueStar® offers an online "Build Your Own BlueStar" tool where customers can custom design their dream appliance product to their own unique specifications. All BlueStar® appliances are designed and built in Pennsylvania.
About BlueStar®
Designed and built in Pennsylvania since 1880, BlueStar® cooking, refrigeration and ventilation products are handcrafted for discerning home chefs who demand restaurant-quality results in their own kitchens. The award-winning line includes high-performance gas ranges, cooktops, electric and gas wall ovens, complementary kitchen ventilation hoods and premium refrigeration. BlueStar® is the only pro-style appliance brand to offer virtually unlimited options for personalization, including more than 750 colors and trims as well as highly customizable cooking surfaces, swing and French oven doors, and restaurant accessories like salamander broilers, charbroilers, Frenchtops and oversized ovens that fit commercial sheet pans. Design a customized BlueStar® appliance online "Build Your Own BlueStar". For general information, visit www.bluestarcooking.com.