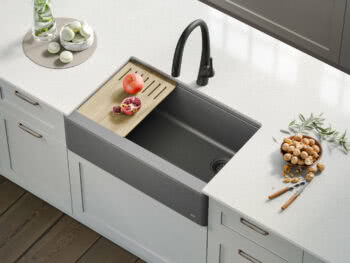 Kraus Unveiled Bellucci™ Granite Workstation Sinks at KBIS 2020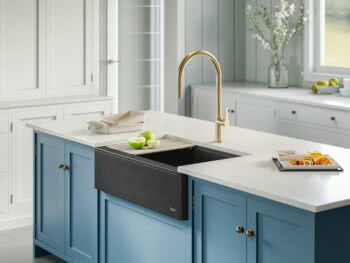 Port Washington, NY – Kraus unveiled an expansion of their popular workstation collection at KBIS 2020 with their new Bellucci™ Apron Front Sinks made with Metalltek™ granite composite. Made in Italy, Metallek combines natural granite with polished metallic particles for a shimmering multi-dimensional effect with the look and feel of real stone. The material offers superior resistance to impact, stains and thermal shock.
Featuring an integrated ledge for kitchen accessories, the Bellucci farmhouse sink transforms into a multi-purpose workstation, freeing your valuable counter space by allowing you to clean and prep food directly over the sink.
Each sink comes with a heavy-duty composite cutting board, custom-fit for the workstation design and is compatible with a full suite of Kraus accessories such as serving boards, dish racks and rolling mats to help simplify your kitchen routine.
About Kraus
Kraus is an innovative sink and faucet manufacturer for kitchens and bathrooms. Although the Kraus brand has global reach, its home base in in Port Washington, NY. Its manufacturing process partners advanced technology with top-quality materials, best-in-industry components, rigorous testing, and comprehensive quality control, all to ensure your complete and total satisfaction. Learn more at https://www.kraususa.com/.