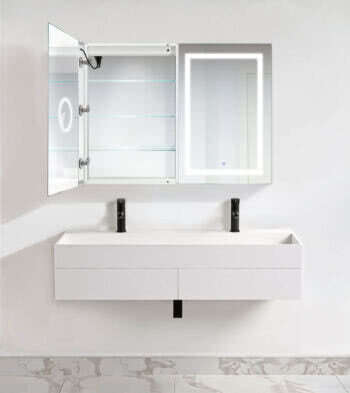 Krugg Bathroom Mirrors Fuse Tradition with Contemporary Style to Create Timeless Yet Innovative Designs
Huntington Valley, PA– Krugg Reflections USA, a leading innovator in the high-quality bathroom accessories market, introduces two products with the potential to transform the bathroom space by blending traditional and contemporary design with cutting-edge technology.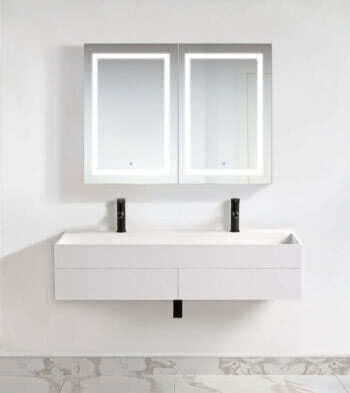 Double LED Medicine Cabinet
Krugg's 48" x 36" Double LED Medicine Cabinet is a symphony of design elements. The most powerful lighting advancements are combined to create a beautiful storage solution—an expression of luxury and function for the bath. From a distance, the LED border produces a striking, modern glow. Up close, the mirror provides unparalleled light dispersion on the face and body. Effortless to use, a revolutionary touch icon is integrated into the mirror face for seamless on/off toggling and dimming with memory functionality.
Open the lighted section cabinet to reveal the full suite of amenities. In the mirrored door, a 3x magnified, LED-lit mirror is perfect for detailed makeup application. The mirrored interior is illuminated automatically for a luxurious touch. Krugg's wide-angle hinges provide freedom of motion and panorama. The 2+2 smart outlet contains two traditional outlets and two USB interfaces to keep beauty tools, as well as a smartphone or tablet, close at hand. The mirror ensures reliable optical clarity with active defogging technology. The Double LED Medicine Cabinet is limited only by the imagination.
The Cabinet is made up of two Components: the 2 x Lighted section is 24″ x 36″.
The Double LED Medicine Cabinet is also available in 60" x 36" and 66" x 36" sizes.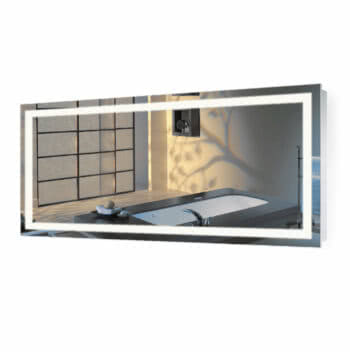 Icon LED Bathroom Mirror
This 84" x 30" lighted bathroom mirror is a true Icon of sleek, aesthetic style and sophistication. The highest quality silver-backed glass provides a clear, crisp and flawless reflection. Truly functional art, this LED Backlit Mirror provides task-specific dimmable daylight illumination for cosmetic, hygiene and dressing needs.
The Icon's 84 x 30 dimensions make it an ideal, powerful focal point. Whether it hangs over a double vanity or dressing table, graces a large single vanity in the master bath, or provides a stunning wall-to-wall application in the powder room, you can rest assured that this breathtaking mirror will be the highlight of your design.
With energy-efficient LED illumination, this eco-friendly mirror provides a lifetime of use. A safe, innovative heating-coil pad behind the Icon bathroom mirror keeps it free of condensation, and a conveniently placed On/Off touch dimmer allows easy control of light levels to get that "just right" ambiance, mood and function.
The Icon LED Bathroom Mirror is available in a range of sizes, including but not limited to 72" x 30" and 60" x 30".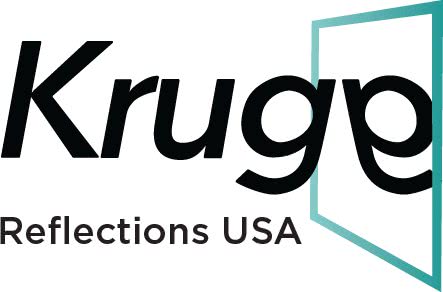 About Krugg
With over 40 years combined experience, Krugg focuses on perfecting everyday utilities and rising above industry standards, creating constant innovation to transform user experiences. Krugg's ever-expanding product line incorporates new features into timeless, distinctive designs that blend refinement with up-to-the-minute convenience.
From inception to completion, Krugg products are rigorously inspected for quality, consistency, and safety. This makes them the ideal starting points for the construction or renovation of any home. Along with a lifetime warranty on all products, Krugg's hassle-free return policy guarantees your satisfaction. Because construction and renovation are time-sensitive endeavors, Krugg's warehousing is arranged to minimize shortages and eliminate delays in shipping. Krugg products are always in stock and arrive in one piece for easy setup. For more information, visit www.krugg.us.