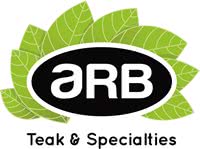 Marketing Representatives LLC Represents ARB Teak & Specialties in the Midwest
PALATINE, IL – Marketing Representatives LLC (MRL) recently agreed to represent the ARB Teak line of teak furniture and accessories in the Midwest states of Illinois, Wisconsin, Minnesota and parts of Iowa and Indiana. ARB Teak carries a wide variety of indoor and outdoor teak furniture, accessories, bathroom products and shower benches.
"We are pleased to announce we are representing ARB Teak in the Midwest," says Tom Hamilton, National Sales Manager for MRL. "ARB Teak is one of the largest distributors of teak in North America, and sells products made only from responsibly harvested Indonesian 'Grade A' teak. ARB Teak's commitment to offering the highest quality teak products on the market is why we chose them."
Teak furniture is highly valued for its natural strength and durability, as well as its long-term resistance to rot, decay and insects. Teak contains a high natural oil content that helps preserve and protect the wood from the elements, making it ideal for wet and dry spaces and indoor and outdoor use. ARB Teak sources only certified ecologically grown and harvested timber from government managed plantations in Indonesia, ensuring that the highest quality materials are used in every ARB Teak product. In addition to using only "Grade A" teak, ARB Teak uses high quality hardware made from solid brass and stainless steel for rust-free furniture that lasts a lifetime.
Unlike many of its competitors, ARB Teak offers only natural, non-oiled or treated teak products. "Teak oil" and other products compromise the natural properties of the wood, ensuring that clients are trapped in a maintenance cycle. ARB Teak's commitment to natural teak helps preserve the integrity of the wood for generations to come.
"As Midwest representatives we will be responsible for not only increasing sales but maintaining ongoing communication with contractors and wholesalers, and promoting ARB Teak in the Midwest marketplace," Hamilton says. "Alain Boucher, president of ARB Teak chose MRL because of experience, knowledge and sales acumen in the distributor and showroom marketplace. We look forward to a long and prosperous venture."
For more information on ARB Teak & Specialties, please call 1-855-772-8325 or visit https://www.arbteak.com/.