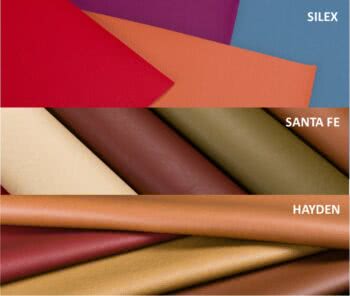 Mitchell Sta-Kleen Silicone Coated Fabrics Deliver Outstanding Performance with Increased Design Options
Sta-Kleen Silicone is the newest innovation in the Sta-Kleen family of coated fabrics. It is a completely new type of coated fabric made from 100% silicone with a 100% polyester double-knit backing (allowing better recover and 4-way stretch for easier upholstering). What is Silicone? Silicone is an organic polymer unlike PU and PVC which are inorganic polymers. Simply put, organic polymers use cleaner building blocks, like Carbon, at the molecular level.
The production process is as environmentally friendly as it gets. Sta-Kleen Silicone is produced through a one station casting process which uses far less energy than a traditional coated fabric manufacturing process. The process does not use any solvents and very little water. Less water to re-cycle (which takes significant energy) or in some cases leads to pollution. There is no VOC released and no air pollution.
Performance
Sta-Kleen Silicone exceeds the performance standards for coated fabrics set by the Association of Contract Textiles (ACT). Sta-Kleen Silicone is also inherently stain resistant, chemical disinfectant resistant, mildew resistant, hydrolysis resistant, UV resistant, denim dye resistant with superior cold crack performance. It delivers the highest Colorfastness to Light rating of any coated fabric on the market today.
Environmental Qualities
Sta-Kleen Silicone does not contain: Polyvinyl Chloride, Plasticizers, Phthalates, Stabilizers, Heavy Metals or Bisphenol A. It does not contain any chemical additives, but passes most commercial flammability tests.
Sta-Kleen Silicone is compliant with the following environmental, green building, and material reporting standards:
REACH
RoHS 2.0
LEED v4 and LEED MR Credit 5
CA Section 01350 VOC Emissions
Health Product Declaration (HPD)
Healthier Hospitals Initiative (HHI)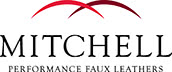 Mitchell Group
The Mitchell Group was established in 2004 and is a major converter of coated fabrics to various upholstery markets around the world. The company's corporate offices are located outside of Chicago in Niles, IL with a 100,000 sf distribution and customer service center located in Pontotoc, MS. Its trading company is located in Shanghai, China, and manages exports as well as all China-to-China business.
Mitchell converts PU, PVC and silicone products manufactured in Asia. It has the capability to decorate product include release paper, embossing, post processing, and two-stage printing effects. The products are subject to rigorous testing, in-house at their production facilities and independently in the United States and Asia at various certified labs, before they are introduced to market, in order to ensure that standards of quality and technical engineering are met and exceeded.