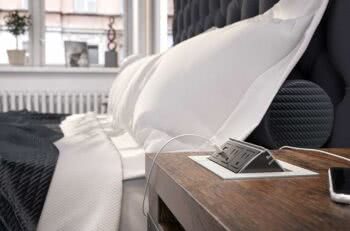 Mockett Releases New PCS82 Series Pop-Up Power Grommets
Torrance, CA — Press the lid to pop up when access to power is needed, then press down to hide away nearly flush with the surface when not in use. This versatile power grommet is easy to install into virtually any surface – after cutting your opening, drop in from the top and secure from underneath. Unit comes standard with a 6' cord for simple plug and play operation. Available in 9 standard configurations with varying combinations of power and charging USB, including 3 double-sided models that flip up in opposite directions for use from either side.
Perfect for private workstations or shared workspaces. Clean contemporary look fits in seamlessly with any environment. These power grommets come in seven standard finishes – go with a matte finish for a subtle complementary accent or a glossy finish for a bold striking look.
Finishes: Matte Grey, Metallic Silver/Black, Metallic Silver/White, Glossy Black, Matte Black, Glossy White, Matte White
Visit www.mockett.com for more information and to view the collection of Fine Architectural Hardware for Your Fine Furniture™.
About Doug Mockett & Company. Founded in 1980, Doug Mockett & Company is the leader in innovative furniture components and architectural hardware, providing "Fine Architectural Hardware for Your Fine Furniture™". We strive for simplicity in design and a spareness in execution. Quality is our guarantee and our commitment to serving you is our promise. We invite you to enjoy our extended product lines in Wire Management, Power & Data Grommets, Furniture Legs, Drawer Pulls, Casters, Coat Hooks, Shelf and Work Surface Supports, Kitchen, Bath and Closet accessories, new ideas in Computer-Into-Desk Integration, and a terrific line of Multi-Purpose Support Brackets.