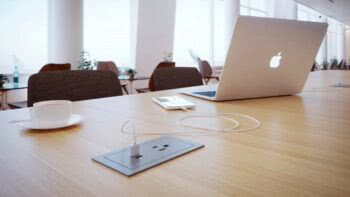 Mockett's New PCS100A In-Desk Power Dock Provides Power Access at the Surface Level
Torrance, CA – Mockett's in-desk power dock provides convenient power access at the surface level. The PCS100A is easy to install and easy to use. Its contemporary, minimalist look gives an understated sophistication to your workspace or home office. The PCS100A comes standard with one outlet and a dual USB charger. Finishes include Black, White and Grey.
About Doug Mockett & Company
Founded in 1980, Doug Mockett & Company is the leader in innovative furniture components and architectural hardware, providing "Fine Architectural Hardware for Your Fine Furniture™". We strive for simplicity in design and a spareness in execution. Quality is our guarantee and our commitment to serving you is our promise. We invite you to enjoy our extended product lines in Wire Management, Power & Data Grommets, Furniture Legs, Drawer Pulls, Casters, Coat Hooks, Shelf and Work Surface Supports, Kitchen, Bath and Closet accessories, new ideas in Computer-Into-Desk Integration, and a terrific line of Multi-Purpose Support Brackets.
Visit www.mockett.com for more information and to view Mockett's collection of Fine Architectural Hardware for Your Fine Furniture™ or call 800-523-1269.