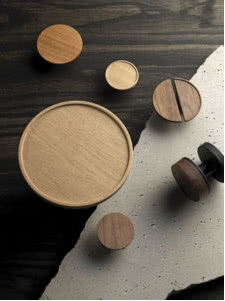 Monte Timber Door Hardware Collection Offers the Enduring Warmth of Wood
Beverly Hills, CA — Designer Doorware's new Monte Timber Collection of hardware incorporates American white oak or American black walnut hardwood to deliver a sense of visual and physical warmth. The natural material is versatile and adaptable to most interiors and, when paired with other wood finishes within the same space, enables a closer connection to the surrounding interiors. Monte Timber is available in a range of sleek silhouettes, including a perfectly round knob and an ultra-contemporary blade pull, that elevate the look of wood into modern forms.
"A wood finish brings a timeless, natural feel suitable for nearly any décor, making it a go-to material for designers and homeowners alike," said Joseph Di Benedetto, Executive Director for Designer Doorware. "The Monte Timber Collection not only captures this enduring finish but elevates it with modern shapes and a clean grain for a truly sophisticated look."
Monte Timber is available in several Designer Doorware profiles:
Timber Club: A lever handle with fully rounded edges that offers a relaxed take on modern forms.
Timber Lanex: Combines simple geometric forms in a lever handle to create a beautiful Modernist style statement for any entrance.
Timber Quad: Angular with breadth defines this lever handle's transitional style that works well in myriad environments.
Timber Zola: Streamlined simplicity creates a minimalist look and feel in the design of this lever handle.
Timber Pull Handles: Options include the slimline Timber Vic. Ash pull handle in both round and various square profiles in different widths and depths; Solid Timber in two sizes with softened, oval edges; Lanex Timber pull handle; Round Timber Vic. Ash pull handle; Semi-circle Timber pull handle; Rectangle Timber Vic. Ash pull handle; Square Timber pull handle
Timber Door Pulls: The warmth of wood takes on a more prominent role with this series of door pulls which includes the sleek and distinctive Neo Timber Blade Pull with cutout in a selection of widths and depths, and with or without stainless backing; Round Niki Timber pull handle in flat faced or dished version; Timber pull handle in two widths; Semi-circle Niki Timber pull handle in flat face or dished version, all creating a beautiful Modernist style statement for any entrance.
Timber Niki on Round Rose: The warmth and organic beauty of natural wood within the Niki Collection adds a captivating touch as a door knob.
Monte Timber Collection pulls, handles, and knob American white oak and American black walnut raw woods can be stained or prepared to complement or coordinate with other wood elements in the room.
About Designer Doorware
Designer Doorware is an award-winning architectural hardware designer and manufacturer. Since its inception in 1996, the company has expanded into a sought-after resource for leading architects, designers, builders, and homeowners worldwide. Recognized for their exclusive designs and smart functionality, Designer Doorware collections enhance today's clean, modernist residential and commercial aesthetics. The company's full product line encompasses door handles and knobs, sliding door handles, door accessories, cabinet hardware, and custom products to suit any space. For more information call Designer Doorware at (877) 751-1411 or visit designerdoorware.com.