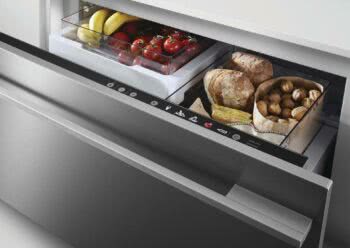 Need to Personalize a Kitchen with Seamless, Integrated Refrigeration?
Costa Mesa, CA — Fisher & Paykel continues to expand its Integrated Refrigeration options, offering a range of solutions that are designed to fit flush with kitchen cabinetry. Recent releases include the Integrated Column Refrigerators and Freezers that sit in company with the brand's established refrigeration category, featuring models such as the Integrated CoolDrawer™ and Integrated French Door Refrigerator. These next generation products deliver a level of personalization and the seamless aesthetic desired for professionally designed kitchens today.
"We believe in offering preeminent kitchen solutions with appliances that are designed to fit seamlessly into modern life. Our Integrated Refrigeration products do exactly that, they become almost indiscernible from the cabinetry around them," says Shane Rehm, Vice President of Product at Fisher & Paykel. "With flush-fit design, the ability to easily slide into existing kitchen spaces or be integrated behind kitchen cabinetry, these new solutions offer a seamless look to any kitchen, while providing our state-of-the-art food care technology."


Integrated Column Refrigerator & Freezer
Integrated Column Refrigeration by Fisher & Paykel are modular vertical refrigerators and freezers, available in 24", 18" and 30" units, that can be mixed and matched with different sizes, finishes and installation either side by side or individually. Columns are equipped with Fisher & Paykel's foodcare technology featuring the Variable Temperature Zone system that ensures food is stored at its optimal temperature to stay fresher longer, and ActiveSmart foodcare, a technology that adjusts airflow within the fridge and freezer to maintain a stable and even temperature. ActiveSmart also helps the appliance intelligently adapt to daily use and reduce energy consumption.
Both refrigerator and freezer in the Columns platform have three temperature modes, controlled from a central panel. The food modes can be adjusted – two zones within in the same column – giving freedom to use fridge (32°F to 44°F), pantry (52°F to 56°F) or chill mode (29°F to 32°F) within the fridge, alongside the freezer column that offers soft freeze (14°F to 18°F), freeze (-7°F) or deep freeze (-13°F).
CoolDrawer™ Multi-temperature Drawer
A great accompaniment to any kitchen, bar, or entertainment space, Fisher & Paykel's CoolDrawer™ is a singular solution designed to fit flush and integrate into one's cabinetry. With five temperature settings and the ability to transition from refrigerator to freezer at the touch of a button, The CoolDrawer™ delivers complete flexibility. Temperature options include freezer, chill, fridge, pantry and wine modes, seamlessly merging intelligence and innovation in technology with convenience. Freezer Mode incorporates three freezer functions — bottle chill, fast freeze and deep freeze. Chill Mode is designed to keep poultry, meat and seafood at optimal freshness at the ideal temperature of 31 degrees, just above freezing. Chill Mode can also be used to keep alcoholic beverages cold, which is ideal for those who like to entertain. Fridge Mode is great for dairy products, fruit and foods requiring general refrigeration. Pantry Mode is designed for items that require a cool dark place of storage such as tropical fruits, breads, cereals and certain vegetables. Wine Mode is an outstanding feature for connoisseurs to take advantage of, offering long-term storage 54°F, short-term storage for white wine at 45°F and short-term storage for red wine at 59°F, the Wine Mode chills to perfection.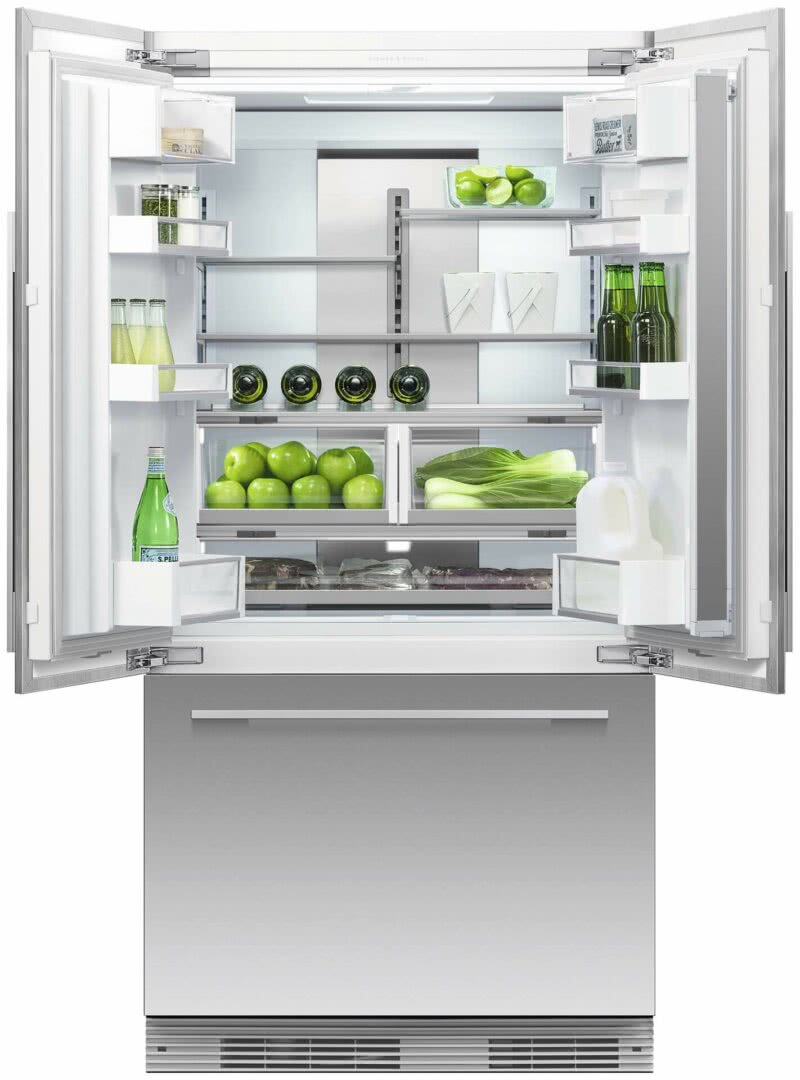 Integrated French Door Refrigerator
Fisher & Paykel's Integrated French Door Refrigerator and Freezer offer yet another smart and beautiful cooling solution for the kitchen. This large capacity 36" x 72" refrigerator with bottom freezer offers users flexibility in design, innovation, and technology and can fully integrate flush into a standard 36″ x 72″ cut-out. When it comes to technology, this appliance learns how its users live with ActiveSmart Foodcare, a feature that understands use patterns and adjusts temperature, airflow and humidity inside to keep food fresher for longer. The Freezer includes a built-in ice maker in a dedicated bin, Bottle Chill and Fast Freeze temperature mode option, as well as ample bins and trays for storage. The refrigerator features secure glass shelves that are designed to capture drips and leaks for easy cleanup and is equipped with bins and trays for optimal food organization. The appliance is equipped with a door alarm as well as sleek LED lighting throughout.
For more information on Fisher & Paykel's Integrated Refrigeration solutions and complete kitchen offering, please visit the brand's dedicated cooling section on their website.
About Fisher & Paykel Appliances.
Fisher & Paykel, New Zealand's award winning appliance brand, has been selling products to change the way people live since 1934. Over time the company has grown into a global organisation, now operating in 30 countries with over 4,000 employees and manufacturing in Italy, Thailand and Mexico. Fisher & Paykel's design heritage is founded on a pioneering spirit and a culture of curiosity that has challenged conventional appliance design to consistently deliver products tailored to human needs. The company is committed to ongoing research and development with a culture of open innovation, which allows people to work collaboratively to find insights and ideas that connect with customers and respect the planet.