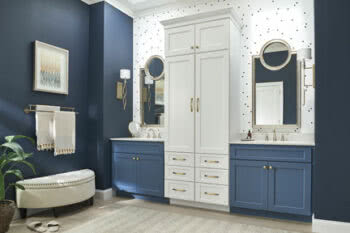 New at KBIS: Hardware Resources Launches 5 New Decorative Hardware Collections
Whether seeking a casual touch of elegance or a bit of bling, designers will find the perfect finishing touch in Hardware Resources' newest collections. 
Bossier City, LA – The perfect kitchen or bath is truly about the details, and Hardware Resources is ensuring designers have decorative hardware options to complete their desired look—no matter if that aesthetic leans classic, contemporary, or anywhere in between. During the 2020 Kitchen & Bath Industry Show (KBIS), Hardware Resources showcased the versatility and timelessness of its pulls and knobs with fresh new collections and sought-after expansions. From the company's Jeffrey Alexander brand, new decorative hardware options range from the daring Dominique to the playful Phillip, each satisfying today's popular transitional and modern interior design trends. Meanwhile, Hardware Resources' Elements line features two new decorative hardware collections that blend clean lines with understated, casual curves for easy living with a touch of style.
New Jeffrey Alexander decorative hardware collections at the show are in today's hottest finishes and pay homage to hardware as jewelry, meeting the interior designer's challenge to reflect each homeowner's distinctive personality.
The lineup includes: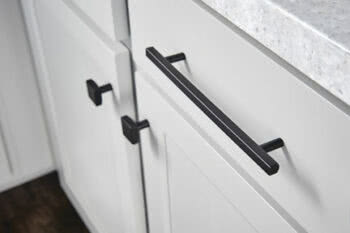 Dominique
Fusing daring lines with a delicate contour, Dominique punctuates kitchens and baths with the perfect balance of grace and power in transitional as well as contemporary designs. Available in an abundance of pull lengths, knob shapes, and stylish finishes, Dominque is a go-to series for an unforgettable touch of style.
Wheeler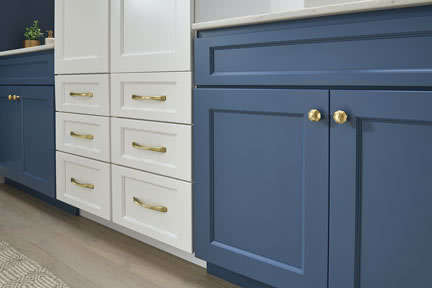 Controlled lines follow a gentle contour to create an enchanting union of beauty and style that elevates even the most ordinary cabinet with a touch of jewel-like bling. Designers can choose from meticulously styled pulls or brilliantly angled octagon knobs suitable for the kitchen, bathroom, or closet.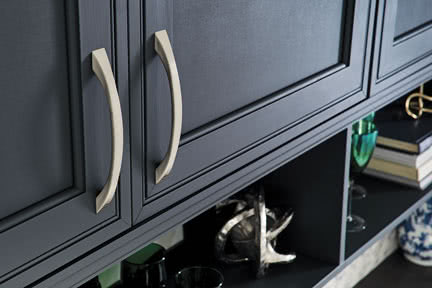 Phillip
A study in contrasts, Phillip is seemingly simple at first glance, yet a playful flare on the pulls create a bit of romance. The subtle styling of these knobs and pulls offers limitless design options for a range of interior design tastes.
Under the Elements brand, designers will find options that deftly balance the clean lines of contemporary styles with a touch of softness, providing immense versatility and functionality for nearly any kitchen and bathroom. New decorative hardware lines include: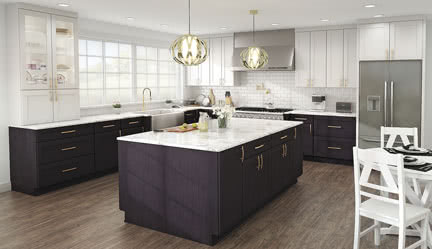 Thatcher
With a slightly round strap sitting atop rounded feet, Thatcher evokes a casual, easy-going vibe. Combining sleek lines with a gentle curve, the pulls cleverly straddle the line between contemporary and traditional. A matching T-knob, combined with extended lengths and trendy finishes, make this collection the perfect match for any cabinet style.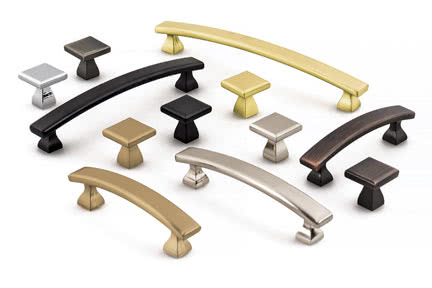 Hadly
With its soft, square silhouette, the fun and lively Hadly collection has quickly become a designer favorite. The pulls combine a strong curvilinear handle with tapered feet to deliver both a modern look and a comfortable, easy grip. The line is expanding with three additional finishes—Matte Black, Satin Bronze, and Brushed Gold—and two new sizes.
About Hardware Resources®
Hardware Resources founded in 1990 and is headquartered in Bossier City, Louisiana, with strategically located warehouses across North America. Their diverse product lines include: decorative cabinet hardware, decorative carved wood products, doors and drawers, functional cabinet hardware, kitchen islands, bath vanities, organizers, lighting and power solutions. For more than 25 years, the focus of Hardware Resources has been the customer. They believe in quality, integrity and reliability—upholding the highest standards of service and responsibility in the industry.