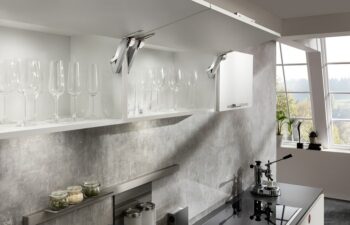 Free Space Hardware in Cabinet Design and Construction
Archdale, NC – What happens when you take years of experience designing, engineering and building flap fittings and incorporate all you've learned into one amazing piece of hardware? The all-new Free Space flap fitting from Häfele!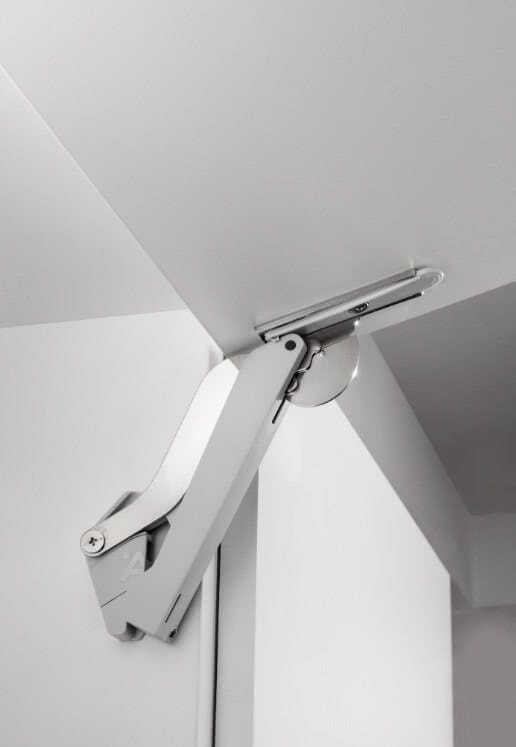 This Häfele single flap series covers up to 85 percent of all flap applications. The all-new Häfele Free Space was showcased at the Association of Woodworking and Furnishing Suppliers (AWFS) Fair in July.
"We wanted to create a product which took everything we know about flap fittings and built that knowledge and expertise into one product," says Steve Hubbard, Häfele America Co. Category Manager. "Häfele Free Space is the result—a groundbreaking piece of hardware which can be used in practically any project."
This flap fitting is stronger, faster, more compact and more efficient than any flap fitting of its kind. The Free Space gives cabinets a smooth and silent operation and features soft close, all with a clean design. It can be left in any position while open and holds doors up to 42 pounds with cabinet heights up to 26 inches. It works for a wide variety of cabinetry allowing for infinite flexibility in cabinet design and construction.
Free Space is compact giving the user more storage space in the cabinet. When opened, Free Space allows the cabinet door to move up, rather than opening from the side, reducing the need to move around cabinet doors and freeing up space. It cuts down on installation time and mounts with just one pre-mounted screw.
About Häfele
Häfele [HAY fell leh] is a leading worldwide supplier of furniture and architectural hardware components that improve the functionality of cabinets, doors, kitchens, bathrooms and other living and working environments. LED lighting, decorative hardware, opening and closing mechanisms for doors and drawers, furniture fittings and electronic locking systems are but a few of the essential items Häfele provides to manufacturers, architects, designers, contractors and construction professionals in more than 150 countries. For more information, please visit www.hafele.com.